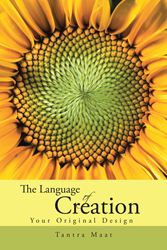 GRASS VALLEY, Calif. (PRWEB) December 05, 2016
With more than 50 years' experience as a mystic and seer, Tantra Maat brings her knowledge from her direct link with Creation to her newest book, "The Language of Creation."
"The Language of Creation" aims to bring people back to their original design of embryonic essence, which is a place of physical and mental clarity free from the effect of trauma and external influence that may cloud our true nature and knowing.
" In today's society, people think specific things or situations will make everything okay," Maat said. "My book is for people who want to be whole and who know they have an innate connection to life they want to respond to beyond fear, but they do not know how to get there."
With the focus of helping others recognize the larger definition of who they are as interconnected beings, "The Language of Creation" provides writing templates designed to create resonance among humans and in that, empathy and unity are restored in the human system.
"This isn't a spiritual book or a secular book, it's where you, as part of Creation, exist in language uniquely and essentially," Maat said. "It helps you have what is yours to have, as it restores you to the original design of what you were born to be."
Readers will be restored as they return to their original design through Maat's insight provided in "The Language of Creation."
"The Language of Creation"
By: Tantra Maat
ISBN: 978-1-49170-708-1 (sc); 978-1-49170-709-8 (e-book)
Available at iUniverse Bookstore, Amazon and Barnes & Noble
About the author
For almost 50 years Tantra has worked as a mystic and a seer guiding people in awakening into what they came here to be. Through her gifts she has profoundly impacted the lives of thousands. Tantra lives with her dog Lily in the foothills of the Sierra Nevada Mountains, Calif.
# # #
Review Copies & Interview Requests:
LAVIDGE - Phoenix
Courtney Coombes
480-998-2600 x 612
ccoombes(at)lavidge(dot)com
General Inquiries:
LAVIDGE - Phoenix
Maggie Driver
480-998-2600 x 584
mdriver(at)lavidge(dot)com