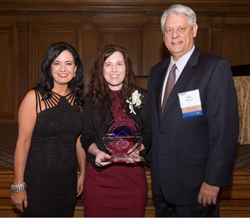 Brenda takes the time to truly understand our team members and works hard to find the right mix of supporting programs to help them be successful and enjoy coming to work each day.
Troy, MI (PRWEB) November 22, 2016
Billhighway is excited to announce that their own Director of Team Member Success, Brenda Gallick, was awarded the 2016 Michigan HR Executive of the Year award. The award is presented by the American Society of Employers (ASE), one of the nation's oldest and largest employer associations. Brenda was selected as the winner in the category of organizations with fewer than 1,000 Michigan employees.
"The HR Executive of the Year award is a coveted honor in Michigan's HR community that recognizes leaders in the profession who dedicate their careers to bettering not only their organizations, but also their industries and the broader community," said Mary E. Corrado, President and CEO of ASE.
Nominees were evaluated on their commitment to the HR profession, success in past and current positions, as well as their impact on the lives of others. In order to be nominated, individuals must have at least 10 years of HR management experience, demonstrate leadership in the HR profession, and apply professional experience both inside and outside of their organization. A selection committee comprised of ASE board members, in addition to past award recipients reviewed and selected all award winners. Now in its 13th year, the award ceremony honored the "best of the best" recipients at the Detroit Athletic Club on November 3rd.
Tom Bomberski, Billhighway's Executive VP of Finance & Accounting, commented, "Brenda has shown incredible commitment to our team members and has helped us build a high-performing culture at Billhighway. Brenda takes the time to truly understand our team members and works hard to find the right mix of supporting programs to help them be successful and enjoy coming to work each day."
Brenda has built a team focused on using innovative human resources practices to challenge traditional workplace standards and build a strong team culture. She embodies the belief that a company must focus on what is important to their team members in order to succeed. She strives to hit the perfect work-life balance for team members, by incorporating on-site wellness activities and introducing new policies, such as Family Flex Time and summer Fridays. She even implemented an anonymous suggestion box, so that team members feel at ease in addressing questions, concerns, or offering ideas for improvements. Believing that a company's greatest talent comes from within, she strives to address skill gaps and empowers the team in their own career development. She spearheaded creative career development initiatives, such as establishing internal certification programs, the Billhighway Academy to train up-and-coming developers, as well as a mentor program to help team members develop skills for new roles. Recognizing that the driving force behind delivering results and achieving our vision of "Do More, Impact More, Grow More" is innovation and a collaborative approach, she strives to inspire the team to Play Fearless each and every day.
Brenda's passion about leveraging business to make an impact in the community lays the foundation for her team to work together in making a difference. "Ever since I joined the team, Brenda has supported my decisions and given me ownership of projects, but is always there for guidance. Brenda knows I am passionate about philanthropy, so she provided me with the opportunity to lead our charitable volunteer outreach program, in which we've supported over 15 charities this year. Every day, I see how she positively mentors all team members," stated Allison Bzdok, Talent Acquisition Specialist for Billhighway.
About Billhighway (http://www.billhighway.co)
Got chapters? We've got solutions. Billhighway provides software for chapter-based organizations to streamline and optimize dues and other member payments. We specialize in facilitating, tracking, and reporting unique payment situations for organizations with chapters, including seamlessly splitting individual payments between chapters and parent organizations – no matter how complex. Clients benefit from increased revenue, financial visibility, and accuracy.
(###)