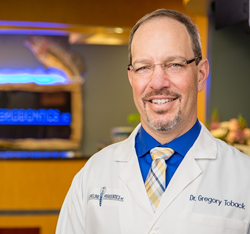 New London, CT (PRWEB) November 21, 2016
Dr. Gregory Toback recently had the honor of speaking on dental implants and periodontology at the 102nd annual meeting held by the American Academy of Periodontology. As a trusted periodontist in New London, CT, Dr. Toback had the pleasure of lecturing alongside other distinguished professionals in the field of periodontics. The meeting attracted more than 2,000 dental professionals from around the world.
This is the second occasion that the American Academy of Periodontology has asked Dr. Toback to speak at its annual conference. The event is held in collaboration with the Japanese Society of Periodontology and the Japanese Academy of Clinical Periodontology. As a member and Diplomat of the American Academy of Periodontology, Dr. Toback understands the core values of this organization are to further enhance successful periodontal practices, achieve new heights in innovative research and enable clinicians to provide patients effective periodontal care.
Dr. Toback and his esteemed associate, Dr. Marianne Urbanski, offer a variety of cutting-edge treatment techniques, at their practice Shoreline Periodontics and Dental Implants including laser dentistry using the LANAP® protocol and state-of-the-art dental implants. Their practice holds two locations in New London, CT and Westerly, RI. Dr. Toback recommends dental implants as an option for those missing one or several teeth as a result of periodontal disease, injuries or other causes. Implants are a preferred tooth replacement option because their natural appearance allows them to blend into an attractive and seamless smile. They are also known for their superior durability and stability when compared to other tooth replacement options and are strong enough to last for many years with proper care.
Patients who wish to improve their dental health and appearance by receiving dental implants or periodontal disease treatment are invited to schedule a consultation with authorities in their field, Drs. Toback and Urbanski, respected periodontists in New London, CT. New patient appointments may be arranged by calling Shoreline Periodontics and Dental Implants at 860-443-2428.
About the Practice
Shoreline Periodontics is a periodontal practice offering personalized dental care for patients since 1998 and is located in New London, CT and Westerly, RI. Leading periodontist, Dr. Gregory A. Toback, received his B.A. from St. John's University and his Doctorate of Dental Medicine from the University of Connecticut. He also received advanced training in periodontics and dental implants at the University of Texas Health Science Center in San Antonio. Dr. Toback focuses on minimally invasive surgeries, offering the LANAP® protocol and belongs to a small group of dental professionals currently providing the Chao Pinhole Surgical Technique™ for treatment of gum recession. Dr. Marianne Urbanski has been voted one of Connecticut's top dentists for more than seven years by Connecticut Magazine. Dr. Urbanski graduated cum laude from the College of Holy Cross in Worcester, Massachusetts where she earned a Bachelors' degree in Biology. She also received her Doctor of Dental Medicine degree and her Masters' of Dental Science degree from the University of Connecticut Dental School. Dr. Urbanski prides herself on offering caring, professional care to each patient. To learn more about Shoreline Periodontics and their dental services visit their website at http://www.shorelineperio.com or call 860-443-2428 for the New London, CT location, or 401-596-0000 for the Westerly, RI office.