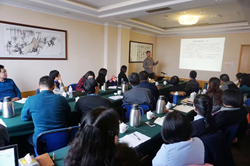 New York, NY (PRWEB) November 23, 2016
ISO management system was straining on 19th November 2016 welcomed trainees from domestic cities to Yuanyang Conference Hotel in Shandong, China. The goal of ISO management system training is to lead the conversation in the new specified aerospace industry.
"The aerospace industry has new opportunities for ISO Management System Standards," Zhang Juan, Partner of AVIC Beijing Certificate Center Co.Ltd. Shandong Brunch said. "We used to serve clients in education, manufacture, and petrol; currently more specialize in aerospace like unmanned aerial vehicles."
An unmanned aerial vehicle (UAV) is an aircraft that carries no human pilot or passengers. UAVs — sometimes called "drones" — can be wholly or partly autonomous but are more often controlled remotely by a human pilot. ISO management system standards provide a model to follow when setting up and operating a management system. Like all ISO standards, they are the result of international, expert consensus and therefore offer the benefit of global management experience and good practice.
The training sessions educate trainees to understand better about the unmanned aerial vehicle and be more aware of the ISO management system standards.
About Beijing Certificate Center Co.Ltd. Shandong Brunch
The Aviation Industry Corporation of China (AVIC) was founded on November 6th, 2008 through the restructuring and consolidation of the China Aviation Industry Corporation (AVIC) and the China Aviation Industry Corporation Ⅱ (AVIC Ⅱ). We are centered on aviation and provide complete services to customers in many sectors - from research and development to operation, manufacturing and financing. Our business units cover defense, transport aircraft, helicopters, avionics and systems, general aviation, research and development, flight testing, trade and logistics, assets management, finance services, engineering and construction, automobiles and more. We have over 100 subsidiaries, nearly 27 listed companies, and more than 450,000 employees. In 2016, AVIC ranked 143th among the newly published Fortune Top 500 Enterprises.