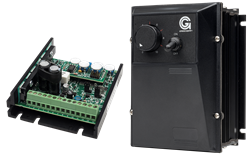 Sioux Center, IA (PRWEB) November 22, 2016
Groschopp, Inc. currently offers two brushless motor-control combos with high efficiency operations and low power losses. The 750-30-0002 with a chassis enclosure and the 750-30-0003 with a NEMA 4X are two controls that not only allow for quieter motor operation, but they also enable both the drives and motors to have longer life expectancies. These controls also exhibit the following characteristics:

Uses motor hall sensor feedback for commutation
Fortified with an anodized chassis mount heatsink
Equipped with quiet 15 kHz PWM switching
Offers forward/reverse control
Operates with closed-loop speed control
Has MOSFET power devices
For over 80 years, Groschopp Inc. has delivered expert technical assistance, superior product performance, quality-honed workmanship and industry experience in the manufacture of highly engineered fractional horsepower electric motors and gear motors for OEM and distribution products. With products designed and manufactured in the USA, Groschopp offers a full line of AC, DC, brushless DC and universal motors—as well as Brushless controls—that can be combined with right angle worm, planetary, right angle planetary or parallel shaft gearboxes. (An ISO 9001:2008 registered company.)
If you would like to know more about this topic, please call the Groschopp sales team at 712-722-4135 or browse the website with the following link: http://www.groschopp.com/product/motor-controls/.