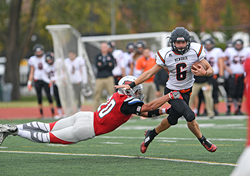 COLLEGEVILLE, Minn. (PRWEB) November 21, 2016
Nine seniors and one junior make up the semifinalists for the 2016 Gagliardi Trophy, an accolade presented by Jostens and the J-Club of Saint John's University to the most outstanding football player in NCAA Division III.
The Gagliardi Trophy, given annually since 1993, recognizes excellence in athletics, academics and community service. The award is named after John Gagliardi, Saint John's legendary Hall of Fame head football coach who retired in 2012 with 489 career victories, the most in college football history.
The 24th Gagliardi Trophy will be presented on Wednesday, Dec. 14, in Salem, Va., at a banquet kicking off the Division III championship weekend, which culminates in the Stagg Bowl on Friday, Dec. 16. The four finalists, who will be announced Dec. 6, will be on hand for the announcement of the winner and presentation of the trophy at the banquet.
The trophy design features a sculpture of Gagliardi and a player, representing the teacher-coach and the student-athlete in a one-on-one sideline consultation. Hand-cast in bronze on a polished wood base, the trophy stands nearly two feet tall and weighs approximately 64 pounds. The words "The Gagliardi Trophy presented by Jostens & J-Club" are printed on the acrylic panel behind the figures. The words "Division III 2016 Player of the Year" and "Honoring Excellence in Football, Academics and Community Service" are etched on two panels below the figures.
Nominations were submitted by colleges across the country, and the final 10 were selected by the J-Club Board of Directors. The Gagliardi Trophy national-selection committee is comprised of 40 former small college football players, former Gagliardi Trophy recipients, business leaders, academicians and sports writers from around the country. Each casts a ballot ranking the 10 semifinalists. A fan vote, which will serve as the 41st committee member, will be launched on D3football.com Nov. 21 and run until Monday, Dec. 5.
Nine of the 10 semifinalists (addressed further down the press release) played Nov. 19 in the first round of the Division III national playoffs: Barnes, Flood, Hanson, Heitland, LiCata, Mullins, Riddle, Tomlin and Ward.
Semifinalists and statistics
(Through end of regular season, Nov. 12)

Matt Barnes, Monmouth College (Ill.)
6-0, 225 | Senior | Linebacker | Spanish and International Business
Colfax, Ill./Ridgeview High School

Is Monmouth's leader in total tackles (108), solo tackles (38) and assisted tackles (70)…captained a defense that led Division III in both scoring defense (8.4 ppg.) and passing defense (116.4 ypg.), third in total defense (199.0 ypg.), fifth in first downs allowed (107) and fifth in third-down defense (.240)…recipient of Tom Johnson academic scholarship, awarded to college's top business student…three-time Academic All-Conference…2016 CoSIDA Academic All-District…six-time Dean's List honoree…assisted with Mortar Board Breast Cancer Awareness fundraiser.
John Flood, University of Wisconsin-Whitewater
6-3, 243 | Senior | Defensive Lineman | Mathematics and Physics
Spring Grove, Ill./Richmond-Burton Community High School

All-WIAC first-team selection…had 19 tackles, including three for a loss and one fumble recovery…anchors a defense that ranked second in NCAA Division III in red-zone defense (.457) and takeaways (39)…three-time WIAC Scholastic Honor Roll…eight-time Dean's List honoree…currently working with an on-campus project collecting data from a space telescope sponsored by NASA…contributes to Special Olympics, Warhawk Leadership Academy and the team's annual food drive.
Carter Hanson, Saint John's University (Minn.)
5-10, 195 | Senior | Linebacker | Global Business Leadership
Blue Earth, Minn./Blue Earth Area High School

Is the only finalist from Division III for the 2016 NFF Campbell Trophy, which is awarded to the top scholar-athlete in college football…leading tackler (62) on a defense that ranked second in Division III in both total defense (195.6 ypg.) and pass-efficiency defense (84.65), third in both rushing defense (60.0 ypg.) and first downs allowed (106), and fourth in scoring defense (10.7 ppg.)…2015 CoSIDA Academic All-American…helped establish a sustainable food source for a village in Haiti during January 2016…volunteers with Kids Against Hunger, Special Olympics and Tackle Cancer, and raised money for St. Jude Children's Research Hospital.
Trevor Heitland, Coe College (Iowa)
5-11, 196 | Senior | Running Back | Business Administration and Accounting
Cedar Rapids, Iowa/Kennedy High School

IIAC's Offensive Most Valuable Player…led NCAA Division III in all-purpose yards per game (217.6) and was second in rushing yards (1,619) and ninth in total touchdowns (18)…had four 200-yard rushing games during the regular season…contributes to Meals on Wheels, Hawkeye Area Community Action Program, Read Across America and various youth football camps.
A.J. LiCata, Alfred University (N.Y.)
6-1, 210 | Junior | Linebacker | Finance
Lake View, N.Y./Frontier High School

Led team with 110 tackles, including nine tackles for a loss and 3.5 sacks…finished 26th in Division III in tackles per game (11.0) and was the leading tackler on a defense that ranked 22nd nationally in rush defense (91.0 ypg.) and 23rd in total defense (286.0 ypg.)…2016 CoSIDA Academic All-District…four-time Dean's List honoree…contributes to Autumn View Skilled Nursing Facility, Concern for Youth of Hornell and various basketball camps in his hometown…participates in team's annual Community Cleanup Day…serves as teaching assistant for a Business Perspectives class and is a SAAC representative.
Baylor Mullins, University of Mary Hardin-Baylor (Texas)
5-10, 190 | Senior | Safety/Punter | Exercise Science
Merkel, Texas/Merkel High School

Led UMHB in interceptions (4) and was second in total tackles (62) and pass breakups (6)…captained a defense that led Division III in tackles for loss (10.4 per game) and defensive touchdowns (7), was third in takeaways (35), fourth in interceptions (22) and 10th in rushing defense (69.9 ypg.)…three-time Academic All-Conference…contributes to Palo Alto Middle School Mentorship Program, Bell County Juvenile Big Brother/Big Sister Mentorship Program, Hope for the Hungry and Fellowship of Christian Athletes…is a SAAC representative.
Sam Riddle, Linfield College (Ore.)
6-2, 205 | Senior | Quarterback | Business Management
Hillsboro, Ore./Century High School

Two-time NWC Offensive Player of the Year…finished sixth in Division III in yards per pass attempt (10.01) and tied for ninth with 31 passing touchdowns in nine games…produced 2,714 yards of total offense…set career records for total offense and touchdowns responsible for at Linfield…helped raise money for the team sponsorship of two young men from Africa and Bolivia through World Vision, and to provide food for a local family over Christmas.
J.J. Tomlin, Washington University-St. Louis (Mo.)
6-1, 210 | Senior | Quarterback | Marketing
Franklin, Tenn./Centennial High School

Tied for fourth in Division III in passing touchdowns (35) and fifth in both passing yards (3,539) and passing yards per game (353.9)…threw for over 300 yards in eight of the 10 regular-season games, including two over 400 yards…is Washington's SAAC president…serves as vice president for school's Fellowship of Christian Athletes, which works with Special Olympics, food drives, shoe drives and various service projects in the area.
Cory Ward, Hardin-Simmons University (Texas)
5-10, 215 | Senior | Linebacker | Criminal Justice
San Antonio, Texas/Wagner High School

Led the team in total tackles (105), solo tackles (50), assisted tackles (55), tackles for loss (13), sacks (6) and forced fumbles (3)…became the 11th player to recorded 100 tackles in a season in school history…volunteered with Special Olympics and is active in the school's criminal justice club, as well as the Reading with the Cowboys program at local elementary schools.
Dayton Winn, Hendrix College (Ark.)
5-10, 160 | Senior | Running Back/Returner | Kinesiology/Sports Management
Pea Ridge, Ark./Pea Ridge High School

Third in Division III in rushing touchdowns (22), fourth in yards per carry (7.89) and fifth in all-purpose yards (188.8 ypg.)…totaled 1,670 yards from scrimmage (1,372 rushing and 298 receiving)…was a 2015 Gagliardi Trophy semifinalist…volunteers with Activate Men, an on-campus service that escorts female students when walking alone on campus…is a residential assistant for the school's housing department…participated in an unpaid internship over the summer with the Arkansas Rush youth soccer club, and volunteers with Angel Tree, which provides new clothing and toys for children for Christmas.
About Jostens
Jostens is a trusted partner in the academic and achievement channel, providing products, programs and services that help its customers celebrate moments that matter. The company's products include yearbooks, publications, jewelry and consumer goods that serve the K-12 educational, college and professional sports segments. Founded in 1897 and based in Minneapolis, Minn., Jostens is a subsidiary of Newell Brands and can be found online at http://www.jostens.com.
About Newell Brands
Newell Brands (NYSE: NWL) is a leading global consumer goods company with a strong portfolio of well-known brands, including Paper Mate®, Sharpie®, Dymo®, EXPO®, Parker®, Elmer's®, Coleman®, Jostens®, Marmot®, Rawlings®, Oster®, Sunbeam®, FoodSaver®, Mr. Coffee®, Rubbermaid Commercial Products®, Graco®, Baby Jogger®, NUK®, Calphalon®, Rubbermaid®, Contigo®, First Alert®, Waddington and Yankee Candle®. For hundreds of millions of consumers, Newell Brands makes life better every day, where they live, learn, work and play.
This press release and additional information about Newell Brands are available on the company's website, http://www.newellbrands.com.
About Saint John's University J-Club
Founded in 1959, the Saint John's University J-Club is a dues-based booster organization of former Johnnie student-athletes, parents and fans, and plays a key role in support of the SJU varsity programs, intramurals and club sports. Saint John's is a private liberal arts college for men located in Collegeville, Minn.