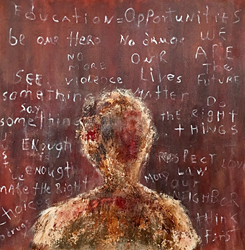 "The various media represented by our resident artists afford visitors an assortment of lenses with which to view and navigate through the Model City journey"
Miami, FL (PRWEB) November 23, 2016
749 Art Studios and Gallery announced today that it will pay homage to Model City with its latest exhibition, "Liberty City – Source of Inspiration." The event will usher in Miami Art Week 2016 which hosts some of the best attended Modern and contemporary art fairs in the nation. It will be open to the public Sunday, November 27th to Tuesday November 29th, from 2:00 to 6:00 PM at 4901 NW 7th Ave, Miami, Fl 33127 and admission will be free of charge.
Drawing inspiration from Model City, more commonly known as Liberty City, the resident artists of 749 Art Studios personally envision and interpret its past, present and future through a mixed media exhibit, a tribute to this vibrant and resilient historic Miami community on the verge of economic revival.
Liberty City has a rich and diverse history and has overcome more than its fair share of challenges. "It's by learning from the past and examining the present that we are empowered to take full advantage of current and future opportunities," said Manolo Iraola, founder of 749 Art Studios, who asserts that it is each person's responsibility to use their talents to have a positive and transformative impact on their community. "The various media represented by our resident artists afford visitors an assortment of lenses with which to view and navigate through the Model City journey," Iraola added.
The exhibiting 749 Artists have created an integrated exhibit designed to guide visitors through the experience:

Juanca Aravic takes you back to the Great Depression of the 1930s when President Franklin D. Roosevelt authorized the construction of the Liberty Square housing project in 1933, the first of its kind in the Southern United States;
Martin Carbajal's graphic work depicts the urban landscape and the constant energy of Model City;
Rosa Naday addresses the urgent social and philosophical challenges of today, focusing on issues of social justice;
Cesar Barroso's display of Halloween celebration by the children of the community reminds us that children are and will always act like children;
Jose Pacheco-Silva captures the ever changing face of Model City, reminding us of the certainty and speed of change taking place;
Jose Castro voices the fragile nature of innocent children's lives taken and affected by gun violence; and
Manolo Iraola renders his vision on the importance of education as an agent of change and its effects on life's choices.
About 749 Art Studios and Gallery
Rainbow Real Estate Group LLC d/b/a 749 Art Studios and Gallery is located on the corner of Northwest 7th Avenue and 49th Street in Miami's Model City (Liberty City) community. The company was founded to nurture artistic expression as a means to unite diverse communities and promote positive transformation.
749 provides mixed media work and exhibit spaces at an affordable price. It strives to foster creativity and reflect the diversity, education, experiences and styles found in South Florida.