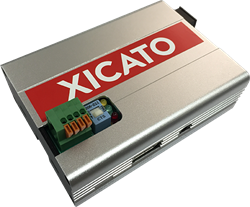 "This is a truly unique and exciting capability of XIM and the ecosystem of value we are building around it."
San Jose, California (PRWEB) November 21, 2016
Xicato, an established manufacturer and thought leader in intelligent, connected light sources, today announces the immediate availability of the Xicato Configuration Tool (XCT), a compact, self-contained computing device that allows fixture manufacturers to custom configure and brand Xicato Intelligent Modules (XIM). Using XCT, Xicato's manufacturer customers can:

Permanently program the XIM lumen output to fit within the thermal constraints of a particular fixture or application
Pre-configure many XIM performance parameters, including dimming curve, output range, power-on light level and fade time, and wired-mode interactivity
Add a manufacturer-specific serial number
Add their company name, model number, lighting plan identifiers, support contacts, or other information to the data stored in the XIM module
XCT is designed for the manufacturing production environment. Configuration files can be exported and imported. The tool checks the validity of the configuration for each module, and verifies that the configuration is properly loaded. Configuration of an XIM takes only seconds per module.
XCT provides benefits to Operations groups by potentially reducing SKUs and inventory levels, since one XIM SKU can be used for fixtures with multiple output ratings. In combination with the XIM's internal sensors and operational data reporting, it simplifies the job of Engineering in matching a module to a heat sink. It gives Marketing a powerful tool to brand a fixture with data that is reported over the XIM Gen4 wireless network to mobile and server-based apps such as Xicato XIMtroller and Control Panel. It simplifies Customer Service by allowing users to remotely discover the manufacturer, model, and serial number of a luminaire – information that is often unavailable even on the physical fixture itself. And it provides data that allows Lighting Designers to verify that the luminaire they specified is the luminaire that is installed.
"Xicato is focused on the success of our lighting designer and OEM customers, and their end users," said Menko de Roos, CEO at Xicato. "Customers and distributors are telling us that this is a truly unique and exciting capability of XIM and the ecosystem of value we are building around it."
About Xicato
Xicato designs and develops light sources and electronics that enable architects, designers and building managers to create beautiful, smart spaces in which people love to live and work. With thousands of installations around the globe, Xicato continues to be a leading supplier of high quality lighting solutions. Xicato is defining the future of intelligent light sources by integrating electronics, software and connectivity.
Founded in 2007 and headquartered in Silicon Valley, Xicato has offices in China, Japan, Europe and the US. For further information, or to purchase Xicato products, visit http://www.xicato.com or contact one of our distributors at http://www.xicato.com/about-us/distributors.