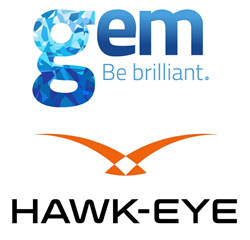 Providing Hawk-Eye with the assets it needs to be more successful in winning new business will be both fun and challenging as we aim to strengthen the brand's impact here in the U.S. market, said Peter Kozodoy, GEM Chief Strategy Officer
Chicago, IL (PRWEB) November 22, 2016
It was announced today that New Haven, CT based firm GEM Advertising will work with Hawk-Eye Innovations North America, a wholly owned LLC of Sony Electronics Inc. GEM Advertising is an award-winning, international communications and marketing agency and has four offices located in New Haven, CT; Vancouver, British Columbia; Boston, MA; and Chicago, IL.
For this project Hawk-Eye has tapped GEM to create materials for their baseball coaching software (SMART Coaching). GEM will be developing logos, creating collateral marketing pieces (brochures, posters, handouts, email templates, etc.) and producing a 30–45-second sizzle reel that demos the key software components. These marketing and promotional materials will be used during upcoming industry meetings and events.
Hawk-Eye's goal is to innovate and challenge convention for the good of sport. Using a combination of creativity and technology, Hawk-Eye technology is designed to make sports fairer, safer, smarter and more engaging. Hawk-Eye has developed the most sophisticated vision processing technology in sports that enables people to not only track balls to mm accuracy, but also players and cars. This vision processing technology, combined with an intelligent IT-based video replay, distribution software and creative graphics platform, powers a number of products and services that are revolutionizing sports.
Peter Kozodoy, GEM Chief Strategy Officer, remarked, "Given GEM's focus on innovative technologies, we are very excited to be working with one of Sony's most technologically-advanced brands in sports entertainment. Providing Hawk-Eye with the assets it needs to be more successful in winning new business will be both fun and challenging as we aim to strengthen the brand's impact here in the U.S. market."
"GEM is a company that cares about their services and their clients," said Jason Bernstein, Managing Director, Hawk-Eye North America. "They proved without a doubt that our needs were not only met, but exceeded, by their insanely talented team of professionals. Any brand would be lucky to have GEM."
Hawk-Eye is now an integral part of over 20 sports and every year covers 7,200 games or events across 450+ stadiums in over 65 countries. Hawk-Eye is a part of Sony and has offices around the world including: United Kingdom, Germany, Italy, United States and Australia.
About GEM Advertising
GEM is a full-service, international communications and marketing agency serving midsize to enterprise brands. GEM serves as a strategic partner for growth by understanding their client's vision and goals, building a strategy to get them there and executing that strategy through GEM's nine in-house departments. GEM has offices in New Haven, CT; Vancouver, British Columbia; Boston, MA; and Chicago, IL. To learn more about GEM, please visit: http://www.GEM-Advertising.com.