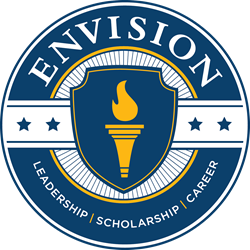 Envision is changing the world in a positive way and making a huge impact. This program is about the future, and these kids are the future.
Washington,DC (PRWEB) November 22, 2016
Envision is proud to announce Anthony Robles as the keynote speaker for the summer 2017 Junior National Young Leaders Conference (JrNYLC).
Born with one leg, Anthony Robles defied the odds to become a three-time all-American wrestler and the 2011 NCAA National Wrestling Champion. Proving that hard work and a strong belief in yourself can lead anyone to success, Robles shares his philosophy to remind us all that we have the power to conquer adversity—no matter how challenging the circumstances.
During this six-day program in the Washington, D.C. area, students in grades 5-7 enjoy interactive workshops, group simulations, and historical site visits that are designed to help them develop the key success skills they need to become effective next generation leaders, like goal setting, collaboration, problem solving, and communication. JrNYLC students also participate in a special Voices of Change project in which they create an action-oriented organization to be agents of positive change at school, in their community, and in the world.
In addition to being an all-American champion, Anthony Robles is the author of Unstoppable: From Underdog to Undefeated, and a 2012 inductee into the National Wrestling Hall of Fame. He is currently ESPN's NCAA wrestling analyst and expert, and in 2013 was appointed by President Obama to the President's Council on Fitness, Sports, and Nutrition. Envision is grateful and honored that Mr. Robles enthusiastically agreed to speak at JrNYLC and inspire future leaders this summer.
"I think [JrNYLC] is just an amazing program, and I'm very honored to [be] a part of it," said Mr. Robles. "Envision is changing the world in a positive way and making a huge impact. This program is about the future, and these kids are the future."
JrNYLC gives students the chance to develop life skills at an early age, while making new friends from around the country, learning through hands-on experiences, and having fun in and around the nation's capital. "I think that's what sets it apart," says Mr. Robles. "They're learning these skills that they're going to take with them for the rest of their lives. It's all about setting them up for their future while at the same time allowing them to have fun."
The Junior National Young Leaders Conference is part of the Envision family of programs (http://www.envisionexperience.com), which enables students of all ages to explore their interests and gain learning experiences beyond the classroom. Since 1985, Envision programs have served more than 800,000 students from more than 145 countries. Envision programs are designed to help students develop the leadership, scholarship and career skills needed to succeed in today's competitive college and career landscape.