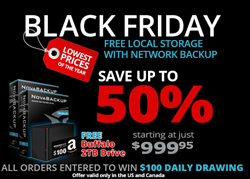 Agoura Hills, California (PRWEB) November 23, 2016
NovaStor is excited to announce that for the first time ever a complimentary NAS device will accompany every NovaBACKUP Network purchase during a week of great savings. Available at savings of up to 50% during these promotions, NovaBACKUP Network is the first truly networkable and centrally managed backup software for small Windows networks.
These Black Friday savings won't last long! Available to customers in the US and Canada, shipped to the destination of your choice every NovaBACKUP Network purchase includes a Buffalo TeraStation 1200 2-Bay 2TB NAS device valued at $205 absolutely free. Make sure your business is ready for 2017, or re-gift it to a friend the choice is completely yours.
Additionally, during these great deals all purchases are automatically entered in NovaStor's holiday gift card giveaway. Throughout the week winners will be announced on Twitter and Facebook giving new and existing customers a daily chance to win a $100 Amazon gift card.
With an eye on customers moving away from big budget backup solutions, NovaBACKUP Network offers the best cost to feature ratio on the market, and during these deals that price is even better! With the best margins of the year, partners are encouraged to take advantage of these great savings. Regardless of when the product is purchased, the clock doesn't start ticking on NovaCare and support until installation making it easy for partners to stock up on licenses.
About NovaStor
NovaStor® (http://www.novastor.com) is an international provider of powerful, affordable, all-inclusive data-protection solutions for physical and virtual environments. NovaStor provides backup & restore solutions to small and medium business (SMB) as well as heterogeneous environments to protect data on both sides of the cloud. NovaStor's SMB solution NovaBACKUP® is rated #1 for businesses requiring local and remote protection of Windows Servers, VMware, Hyper-V and NAS environments with advanced monitoring capability, detailed reporting, and administration from a centralized monitoring console. NovaStor's network backup solution NovaBACKUP DataCenter brings F500 references, scalability, reliability and speed to heterogeneous environments; a single pane of glass designed to reduce administrative effort and lower TCO. NovaStor' Setup Assistance is an industry first where experts relieve clients from the complexity of installation and support. NovaStor is management-owned with over 1,000 partners, and millions of seats distributed. With global headquarters located in Zug, Switzerland and offices in Germany (Hamburg) and the USA (Agoura Hills), NovaStor is also represented in numerous other countries through partnerships.