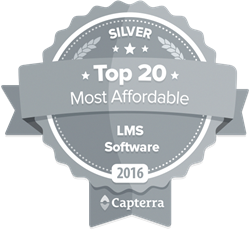 Providing great value has meant being "affordable and robust" for the past 13 years to us at Edvance360.
Virginia Beach, VA (PRWEB) November 23, 2016
Edvance360, a leading provider of eLearning solutions, one of the top ten tools for online teaching, as well as 2015 winner and eight-time-finalist for the CODiE Award for Best Learning Management System, announced Edvance360 has been awarded the 9th spot out of over 500 LMS vendors competing in Capterra's recent "Top 20 Most Affordable LMS" report. This report figured in a set of 13 features, cost of implementation, overall costs, reviews from clients on the cost, as well as other criterion.
"We are very proud of our listing on Capterra's report," said Cathy Garland, Vice-President of Edvance360. "Providing great value – which to us has always meant being affordable yet robust – has been our goal for the past 13 years. Our clients have always enjoyed our below-market cost and our free, value-added features that many LMS charge extra for, such as Learning Outcomes & Competencies, ePortfolios, training and implementation, etc. Being in the Top 20 out of over 500 vendors is quite an honor!"
We invite you to consider Edvance360 for your online programs and internal training programs. Edvance360 offers:

Unparalleled Personal Support – Edvance360 is a demonstrated leader in its commitment to personalized support for its clients.
Affordable Pricing – Edvance360 pricing is significantly lower than other commercial vendors. Pricing is regularly 30%-50% below competitor prices.
Forward-Thinking Commitment – Edvance360 was the first to combine social networking and other Web 2.0, collaborative tools (Wikis, Communities, Journals, Blogs, RSS feeds, etc.) with the Learner Management System.
Open Standards and Specifications – Edvance360 supports SCORM and Common Cartridge.
About Edvance360
Edvance360 is an Internet-based Learner Management System (LMS) and secure social network that enables institutions to implement a successful online program. Edvance360 equips schools, corporations, and organizations to host online courses, implement modular courses, and revitalize traditional courses.
Our clients enjoy a high return on their investment, personalized support, and customizable solutions. We do not believe a one-size-fits-all approach is beneficial to our clients, so we are committed to adapting Edvance360 to fit the needs of the rapidly changing world of education.
Edvance360 is headquartered in Virginia Beach, Virginia, with operations in South Carolina and Georgia. For more information, please visit http://www.edvance360.com or call 866-458-0360.
Edvance360 and the Edvance360 logo are trademarks of Edvance360 Corporation. All other company and product names mentioned herein may be trademarks of their respective owners.