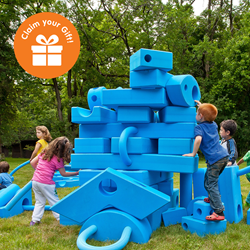 I was super-excited when I found out how to get the Big Blue Blocks and was able to order them immediately through the Gift of Play program. They are very creative and I know the children are going to enjoy building a variety of things.
(PRWEB) November 22, 2016
Imagination Playground, LLC—creators of the breakthrough play space concept that encourages child-directed, unstructured free play—announced today a new record for schools receiving financial help to acquire an Imagination Playground through their Gift of Play program. The company reports a total 452 schools have been aided so far this year, with 143 of those schools receiving help in November.
The announcement came after two consecutive weeks of record-breaking school participation. Imagination Playground President Dave Krishock says the November surge is the largest the company has witnessed during any month since the successful 2015 program was relaunched earlier in 2016.
"We've helped more schools than ever this past month, and there is nothing better than knowing we are helping. I'm encouraging everyone, if you know of a school, have them give us a call, or just tell a friend about this incredible opportunity," said Krishock.
Gift of Play is a cash gift which can be applied towards the purchase of an Imagination Playground. Motivated by their 2016 mission to get 3 million more children playing, Imagination Playground recently increased their Gift offer to unprecedented levels, translating into a 20% discount. The Gift comes at a perfect time, as an increasing number of schools desire unstructured learning activities for their children—schools that repeatedly tell Imagination Playground it the difference between being able to offer creative play, or continuing to go without.
Among the 143 new schools excited to receive their Imagination Playground through Gift of Play is The Schoolhouse in Duluth, Georgia. The school focuses on hands-on-learning driven by children's inquiry, inspired by Howard Gardner's Multiple Intelligences theory, Reggio Emilia, and Montessori methods. Angilla Jones, School Director, shared, "I had seen the blocks and was looking everywhere for them. I was super-excited when I found out how to get them and was able to order them immediately through the Gift of Play program. They are very creative and I know the children are going to enjoy building a variety of things."
Another school to recently benefit from Gift of Play is Kids 'R' Kids in Conyers, GA. The preschool strives to incorporate developmentally appropriate activities in all areas, including language/literacy, cognitive, physical, and social-emotional. Director Elisa Frey told Imagination Playground, "We just received our blocks and yes, Gift of Play absolutely did help! I think the kids will love them!"
Schools (and Family Centers) interested in learning more about Imagination Playground and Gift of Play are encouraged to call 1-678-604-7466, email ContactUs(at)ImaginationPlayground(dot)org or visit http://www.imaginationplayground.com/promotions/gift-of-play.html
About Imagination Playground, LLC
Imagination Playground is a breakthrough play space concept developed to encourage child-directed, creative free play. The kind of play that experts say is critical to children's intellectual, social, physical and emotional development. Created by architect and designer David Rockwell and the Rockwell Group, Imagination Playground enables children to play, dream, build and explore endless possibilities. Imagination Playground finds its home in daycare centers, kindergartens, elementary schools, children's museums—and science, nature, discovery centers, camps, community centers, children's hospitals, hotels, public parks and more—in North America and over 60 countries overseas. For more information, visit http://www.imaginationplayground.com