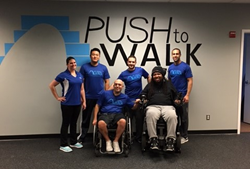 Every day we witness the dedication and hard work put in by our clients and staff, our Grand Opening is the perfect opportunity to share why we are proud Push to Walk and all it has accomplished since January 2007
Oakland, NJ (PRWEB) November 22, 2016
On Wednesday, November 30, 2016 from 4:30-7:30 pm Push to Walk will host a Grand Opening event sponsored by the Oakland Community of Commerce at 100 Bauer Drive, Oakland, NJ 07436. The event will include a ribbon cutting at 5:30 pm, refreshments, and the opportunity to observe client workouts from 4:30-5:30 pm. All are welcome to join for this celebratory event.
Push to Walk spent the better part of the last decade in Riverdale, New Jersey and anticipates further growth in its new location. This is a larger, more functional gym space which will have a greater impact on Push to Walk's clients, helping them gain independence and maximize health and well-being. The 7,435 square foot gym includes bigger contiguous gym floor space to accommodate more clients and equipment, and a longer "overground" walking area for clients to use during workouts.
"Every day we witness the dedication and hard work put in by our clients and staff, our Grand Opening is the perfect opportunity to share why we are proud Push to Walk and all it has accomplished since January 2007," said Cynthia Templeton, President of Push to Walk.
Push to Walk website: http://www.pushtowalknj.org
For more information or to RSVP, please contact Kate Wolfe at (201) 644-7567 or kwolfe(at)pushtowalknj(dot)org.
About Push to Walk
Founded in 2007, Push to Walk is an organization that provides individualized workouts and resources to people with spinal cord injuries and other forms of paralysis to optimize current quality of life and to prepare for future medical advancements. It is the only program of its kind in the New York- New Jersey area. Push to Walk's rigorous one-on-one workout approach challenges clients to reach their personal goals and achieve maximum independence, leading to greater success and fulfillment in their personal and professional lives. Push to Walk is only able to cover about 65% of its operating costs through client fees, and relies on grants and fundraising events to help make up the difference. A 501(C)3 non-profit, Push to Walk is located in Riverdale, New Jersey. Visit http://www.pushtowalknj.org to learn more.