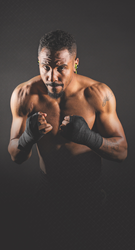 Music is a huge part of my daily workouts, and Monster Products, including the iSport, really help me maximize the benefits of my training.
Las Vegas, Nevada (PRWEB) November 22, 2016
Monster®, creator of the critically acclaimed line of iSport Fitness headphones referred to as the Athlete's Headphone™ is proud to announce the latest contenders to expand its iSport® Headphone line. Monster teamed up with two-weight world champion and 2004 Olympic gold medalist Andre Ward (31-0, 15 KOs) to launch the line as he prepared for his showdown with Sergey Kovalev. Ward trained with iSport in the run-up to the fight against Kovalev. The line includes a complete range of models, including four new wireless and three new wired options to suit all preferences, style choices and budget requirements ranging in price from $29.95 to $199.95.
Monster iSport Headphones Are Always in Andre Ward's Corner
Like many champion-caliber athletes, Andre Ward uses music as an inspirational tool during intense workouts. Monster's rugged, sweat-proof iSport headphones not only keep up with Ward during his most strenuous workouts, their powerful audio technologies provide all the musical punch he needs to stay focused and motivated while training.
"Music is a huge part of my daily workouts, and Monster Products, including the iSport, really help me maximize the benefits of my training," says Andre."
Head Monster Noel Lee noted: "In everything Monster creates, our goal is to bring out the very best sound of every type of music. With our new iSport headphones, we literally aim to bring out the champion in every listener. Music is an essential part of an athlete's training, whether it's inspiring them to punch harder, run faster, cool down, or just enjoy the whole process more. We're proud to continue driving the segment with the launch of our latest iSport models."
Designed to provide fitness enthusiasts and everyday champions a jolt of Pure Audio Adrenaline to help them reach their workout goals, the new iSport line features even more innovative, workout-friendly features and sheer audio power. With its iSport lineup, Monster continues to push the envelope in fitness headphones, providing champions, athletes and fitness enthusiasts its signature pulse-pounding Pure Monster Sound™ with unprecedented clarity and range from all genres of music to help increase performance.
Learn more at Monsterproducts.com/andre
Here's a quick look at some key models.
iSport Victory Bluetooth Wireless In-Ear Headphones ($99.95)

NEW: Premium, smaller design
NEW: Two sound-engineered Monster Sound profiles (warm-up and sport) so you can customize your workout audio experience
NEW: Twisted, reflective cable for extra safety in low-light environments
Durable and sweat-proof
Patent-pending airtight OmniTip™ that offers ease of fit for any ear shape
Multiple sized ear-tips
High sound isolation, targeted at activities requiring a high level of concentration
8+ hours playback
Available in black, blue and green
iSport Freedom v2 Bluetooth Wireless On-Ear Headphones ($199.95)

Cutting-edge Touch Sensing Controls for play/pause,tracking and volume
Three listening modes (wireless, wired and USB Direct Digital Audio)
Two Sound Profiles (standard and "turbo" mode)
Pair two devices to share music
Low battery voice prompts and indicator LEDs
Built in high-intelligibility mic with advanced echo suppression
Superior wireless performance (Apt-X)
Durable and sweat-proof
Available in black
iSport Achieve In-Ear Headphones (SRP: $29.95)

One universal ear-hook
High sound isolation
In-line microphone
Low profile flat cable
Available in black, blue and green
For review samples or details on the full line, please contact us.
ABOUT MONSTER
For the past 35 years, Monster® has been a catalyst for innovation and big ideas. Discovering that cables in hi-fi systems influenced the sound, Head Monster Noel Lee developed Monster Cable - an immediate hit. Monster® engineered the sound of Beats® headphones, and has since become the world's leading manufacturer of high-performance headphones, all featuring Pure Monster Sound™ technology. Today, the company offers advanced connectivity solutions for professional musicians, home entertainment, computing, mobile and gaming, as well as high performance AC Power and conditioning products. Monster® continues to lead in innovation with Monster having been granted over 500 Patents and 100 patents pending worldwide, offering more than 5,000 products in over 160 countries. Monster® also prides itself in helping those who are in less-than-fortunate circumstances through Monster Cares. Above all, Monster® does what it does Because the Music Matters.
Explore the world of Monster at http://www.monsterproducts.com. To become a fan of Monster® products, please follow us on Facebook (http://www.facebook.com/monsterproducts) or Twitter (http://www.twitter.com/monsterproducts).
Trademarks and brands are the property of their respective owners.
# # #