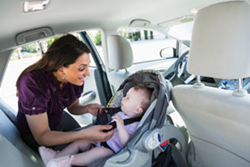 Safeguarding young lives is the best possible motivation to improve product labeling.
Denver, CO. (PRWEB) November 22, 2016
Custom Labels and Stickers can Keep Products Safe
While there's never a bad time to worry about the safety of children, November is specifically set aside to think about making sure individuals and brands are taking every possible precaution to safeguard young ones. Lightning Labels encourages manufacturers to use this time to consider whether their products could be made safer with custom labels or stickers during Child Safety and Protection Month. One quick change, such as a single important addition to safety labels or warning text, could end up saving a life.
Home and Auto Products Deserve Consideration
When it comes to the items families use every day, there are plenty of pertinent warnings to include on child safety labels. Ideal use of an item such as a car seat can keep a little one secure, but mistakes in usage can negate the safety benefits. In situations where there is any ambiguity, it pays to custom stickers or labels. Customers will be grateful for the information, and the timely reminders of proper use can literally save lives.
There's no such thing as too much security. While it may at first seem like adding security warnings beyond those required by industry regulations may scare consumers away, it's better to be the brand that gives ample directions. Parents care more about the safety of their young ones than anything else, and companies that help them keep their families secure may be poised to strike up decades-long partnerships.
Goods in the home may pose risks in many different ways. Sharp edges, toxic chemicals, small pieces, choking hazards - all of these deserve their own kinds of warnings. November's theme of child safety makes it a great time to go back over every item in the line to ensure the proper safety information is clearly displayed.
Perhaps there are enough warnings on the products, but they can be made more visually arresting - November is a great time to make such a change, using eye-catching imagery and clear, legible text to give sensible and potentially life-saving information. Good labeling can ensure products are only ever used in safe ways, and Lightning Labels takes its role in this process seriously.
"November is a great time to look over a whole line of products and ensure that everything has safety labels that aren't just adequate, they're unmissable." said Lightning Labels Director of Business Development AnneMarie Campbell. "Safeguarding young lives is the best possible motivation to improve product labeling."
Time to Order New Labels
Companies that want to get started on better safety labeling can do so with the help of a provider such as Lightning Labels. Small or large, businesses can get the high-quality, colorful and eye-catching labels and stickers they need from this all-digital provider. With November quickly passing by, it's time to make a purchase and improve safety across the line.
Lightning Labels' all-digital printing processes and domestic facilities ensure that orders arrive quickly, making it possible for leaders to commit to their new strategies now and receive their labels before Child Safety and Protection Month is over. It's never a bad time to become safer, but this month is perhaps the best of all.
About Lightning Labels:
Lightning Labels uses state-of-the-art printing technology to provide affordable, full-color custom labels and custom stickers of all shapes and sizes. From small orders for individuals to the bulk needs of big businesses, Lightning Labels is equipped to handle and fulfill custom label and sticker projects of all types. Best of all, like the name implies, Lightning Labels provides a quick turnaround for every customer's labeling needs. Uses for Lightning Labels' custom product labels and custom stickers include food packaging and organic food labels, wine and beverage labels, bath and body labels, and nutraceutical products, such as vitamins, essentials oils, and herbal remedies, as well as event stickers, adhesive window stickers and more. Lightning Labels strongly supports the development of environmentally friendly printing materials and carries EarthFirst PLA, a new kind of green label material made from corn instead of petroleum. While operating as a high-tech printer, Lightning Labels prides itself on its personalized customer service. Lightning Labels provides one stop shopping for all of your custom label needs. For more information and to place orders online, visit LightningLabels.com. For the latest in packaging news and labeling promotional offers, find Lightning Labels on Twitter (@LightningLabels), Facebook, Pinterest, Google+ and LinkedIn.