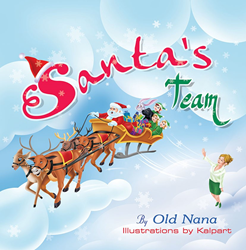 "Children's books are so very special. They create magical moments for children, parents, and grandchildren that cannot be duplicated any other way." - Author, Old Nana
(PRWEB) November 28, 2016
Old Nana just released her seventh children's book,"Santa's Team." The author has been writing children's books for over 10 years, beginning with "Lasre, A Magical Christmas," about a fawn who helps Santa find a child's address by looking at the stars. Every child has their own star, and their address automatically changes when a child moves, allowing Santa to always know where to leave presents!
Old Nana is really Nancy Wehrli Pekarek, the nana of 15, mother of four, and the oldest of 10 siblings. She is inspired by family moments to write, and many of her stories include grandchildren.
Raised in a large family in Naperville, Illinois, the author graduated from Naperville High School, got her teaching degree from National Louis University, and master's degrees from Valparaiso University and DePaul University. She taught fourth grade in Naperville, second grade in Valparaiso, and undergraduate and graduate classes at both Valparaiso and DePaul universities. While helping with grandchildren in Whitefish Bay, she also taught at the University of Wisconsin Milwaukee.
"Children's books are so very special," she says. "They create magical moments for children, parents, and grandchildren that cannot be duplicated any other way. I am grateful to Strategic Publishing for all the help they have provided to bring my ideas to life."
Her other books include "The Girl Who Converses with Butterflies," "Just Right," "Dora's Dolls," "Best of the Best," and "Audie, The Rabbit with Magical Ears."
"Old Nana's latest book will appeal to everyone who loves Christmas and believes in the magic of Santa Claus. We are proud to be the publisher," said Robert Fletcher, CEO of Strategic Book Publishing and Rights Agency.
About the Author: Old Nana grew up in a household filled with the love and laughter of children. It is from children that she receives her inspiration for writing. "Their creativity and curiosity expand my creativity and curiosity." She is called Old Nana because she has lived long enough to confirm the existence of the ordinary and extraordinary magic of life. Old Nana lives in the U.S. Midwest on a lake, where she shapes her wonderful stories.
SANTA'S TEAM (ISBN: 978-1-68181-646-3) is now available for $13 and can be ordered through the publisher's website:
http://sbpra.com/OldNana or at Amazon.com or Barnesandnoble.com.
WHOLESALERS: This book is distributed by Ingram Books and other wholesale distributors. Contact your representative with the ISBN for purchase. Wholesale purchase for retailers, universities, libraries, and other organizations is also available through the publisher; please email bookorder@sbpra.net.