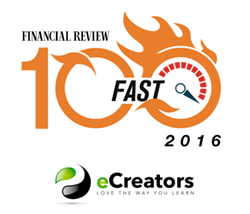 If you have to explain how to use an interface, its not a good interface
Melbourne, Australia (PRWEB) November 23, 2016
Digital Learning solutions provider, and Certified Moodle Partner, eCreators, has been ranked as one of Australia's fastest growing companies by BRW Magazine, joining their renowned FAST 100 list which ranks the fastest-growing small and medium sized businesses in Australia.
This is eCreators' first time on the list and it is an exciting time for the company, but success didn't come overnight. It is the result of years of continuous improvement and a focus on building quality relationships and strong partnerships with both client organisations and the world's biggest learning management system, Moodle.
"Productive partnerships and co-creation are central to how we operate. We hear it over and over again from our clients, they want to work with a partner not just a vendor. When we work with clients, we aim to become extension of their organisation," says Dean Saunders, eCreators' Founder and CEO. "We're also a Certified Moodle Partner, so our financial contributions ensure the ongoing success of the Moodle Product."
In the past decade, one of eCreators' key achievements has been the launch of their flagship product Learnbook, which extends Moodle's functionality and UX design. Learnbook is now recognised by Moodle as a formidable theme.
"Our development process puts client feedback and input first. Our users should be able to jump into the platform and intuitively complete the tasks they need to do. If you have to explain how to use it, it's not a good interface," says eCreators' Digital Technology Manager, George Pana. "It's for this reason we attract everything from SMB to enterprise clients wishing to implement tech-enabled learning. Plus, Moodle is great to work with. It's modular, and with our expertise, we can really build tailor-made solutions."
Moodle Founder and CEO, Dr. Martin Dougiamas, also congratulated eCreators on the company's BRW ranking.
"At Moodle our mission is to empower teachers and learners worldwide with open, powerful and flexible education tools," said Dr. Dougiamas. "We are able to do that through the support of our Certified Moodle Partners, such as our fellow Australian company eCreators, who help institutions and organisations with expert services and solutions so that Moodle users get the best out of their learning environments."
"eCreators' dedication towards advancing online education, innovating the edtech scene and providing quality customer service always goes above and beyond typical approaches, and I'm so glad this has been recognised in their recent BRW ranking."
"Huge congratulations to eCreators on this achievement and I look forward to all the great things we're going to do in future."
In addition to eLearning content, bespoke Learning Management Systems, Learnbook and Moodle Training and consultation, eCreators will be adding to their catalogue of products and services with two new game-changing learning management products that will hit the market in 2017. They also plan to formally expand their products and services to the UK and US markets on the back of significant organic growth in the number of clients they service overseas.
About eCreators Digital Learning Solutions
eCreators is a Certified Moodle Partner that provides digital learning solutions that help organisations realise the full potential of their people. From eLearning content and learning management systems to product training and consultation, eCreators provides end-to-end support to design tech-enabled learning solutions that work for your business. Their catalogue of clients includes Open Universities Australia, Northrop Grumman, The Australian Red Cross Blood Service, and The Royal Melbourne Institute of Technology.
For more information, contact Jean via jean(at)ecreators(dot)com(dot)au or by calling 1300 913 112.