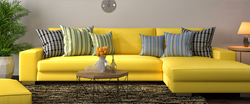 It [the new EZmod website] is very organized, sleek and so easy to navigate through.
Baldwin Park, CA (PRWEB) November 23, 2016
Gobble, gobble! The annual EZmod Furniture Thanksgiving Day Sale is here. Customers will enjoy 10% off all mid-century modern items throughout the site. Customers will also enjoy browsing the brand new website EZmod relaunched this week, including an edgier look, amazing lifestyle photos and easier navigation.
All mid-century modern fans should get ready for an exciting offer from the modern furniture company. Beginning November 23rd 2016, all mid-century modern items will be an additional 10% off throughout the EZmod website. Customers can enjoy the turkey day discount by entering EZTHANX10 at checkout. The Thanksgiving Day Sale will continue on until November 27th, 2016 at 11:59PM PST. As always, EZmod offers free shipping within the continental United States on all items.
Now, it is even EZ-er to navigate through the EZmod website. The relaunch went live this past Monday, November 21, 2016 and customers are loving it. "It is very organized, sleek and so easy to navigate through," explained Monica Nava, EZmod customer. The revamped website now invites customers to sign up for the monthly newsletter right before they enter the site. EZmod even offers new customers a discount just for signing up. Houzz.com has also been integrated into the EZmod website. Real reviews from certified customers can be found on the left-hand side of the site while browsing. Along with these great features, the overall look of the site has a simple, clean appearance with a touch of edge to it. EZmod stuck to the familiar color scheme of yellow and white with black being more of a transparent gray for the new site.
EZmod Furniture has what you are looking for in contemporary, Bauhaus and mid-century modern styles. EZmod Furniture is an online modern furniture company specializing in beautiful, premium furniture and interior décor. EZmod Marketing Specialist Angelique Valdez is happy to answer any questions you may have. For more about these featured chairs and all other inquiries, please call 866-630-6161 extension 113 for more information.