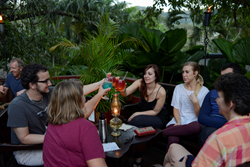 It's hard to imagine a more enjoyable, satisfying early Christmas present
San Ignacio, Belize (PRWEB) November 24, 2016
Christmas is coming early for travellers looking for an affordable eco-luxe holiday in Belize, according to The Lodge at Chaa Creek.
Chaa Creek's marketing administrator Roberto Harrison said that as part of its "Early Belize Vacation Package Unwrapping," the popular Belizean eco-resort is offering a free night's stay along with some extra "Christmas stocking stuffers"
"Every year we like to do something special, and this year, starting right now, we're extending an early Christmas present to our loyal followers and new guests as well," Mr Harrison said.
"So as 2016 comes to a close, we're giving people the chance to unwrap a Belize vacation package early," he added.
Mr Harrison said this year's early Belize vacation package features a "pay for three, the fourth night's free," discount as well as free traditional mulled wine for guests over 18, with a non-alcoholic version for younger guests who, aged 17 and under, stay free.
"It's the perfect way to get in the mood, and get fit for the holidays. Our early Christmas package stay includes eco-luxe accommodation with complete access to the wide range of amenities and activities within our 400-acre private nature reserve, including an infinity pool, fine dining restaurant and jungle lounge offering authentic farm-to-table dining courtesy of the onsite traditional Maya organic farm and fresh seafood from the nearby Caribbean sea, as well as the internationally acclaimed Hilltop Spa.
"With the Belize Natural History Museum, Blue Morpho butterfly breeding facility, Maya Medicinal Plant Trail and other attractions no one gets bored, and with swimming, canoeing down the Macal River, horseback, mountain bike riding and guided or self-guiding birding and nature walks along the miles of well-maintained trails crisscrossing the property, staying in shape after all that sumptuous dining is as enjoyable as it is healthy.
"And, with a free day and night's stay, it's all amazingly affordable."
Mr Harrison said that in addition to numerous awards and recognition from Green Globe, Trip Advisor, The Belize Tourism Board and other entities, Chaa Creek has become widely known as Belize's "Destination within a Destination' due to its extensive range of tours, excursions and all-inclusive Belize vacation packages that cover the entire country from the Belize Great Barrier Reef, numerous cayes and Caribbean Coast, as well the "Mundo Maya".
"Belize is an integral part of the Mundo Maya, or ancient Maya World, and Chaa Creek, located in the ancient Maya heartland, offers tours to all the most important ancient Maya temples, cities and archaeological sites including Caracol, Xunantunich, Cahal Pech and literally every significant site in Belize as well as the beautifully preserved, majestic city of Tikal in neighbouring Guatemala. With some 70 ancient Maya sites recorded within our nature reserve, and a team of knowledgeable, licenced guides, we're in a unique position to introduce people to the wonders of this fascinating ancient civilisation.
"And with our new Cultural Grand Tour and Rainforest to Reef packages that offer a combined jungle and Caribbean beach vacation, a Belize vacation can be as educational as it is fun and relaxing.
"It's hard to imagine a more enjoyable, satisfying early Christmas present. And, because we look after everything from the time we pick guests up at Belize's International Airport until we drop them back off, it's a seamless, carefree holiday without the hectic last minute planning and expense of other options," he said.
Mr Harrison added that guests report they sleep easier at Chaa Creek knowing that ten percent of all room revenue goes directly into environmental and community projects.
"As one of Belize's first true eco-resorts and the first Green Globe Certified Belizean business, owners Mick and Lucy Fleming instilled a green ethos in Chaa Creek since opening in 1981, and they and their family continue to work tirelessly to promote sustainable tourism and responsible travel throughout Belize. The entire staff is proud of the awards and recognition we've received over the years, and in proving that a high degree of luxury, quality and impeccable service can go hand-in-hand with a green philosophy and operations.
"It's not something we highlight, but I've heard many favourable comments from guests who say they feel good knowing that their stay here actually contributes to the environment and people of Belize," Mr Harrison said.
"So when you unwrap an early Belize Christmas vacation package this year, you'll be doing more than just saving money and dreaming of a Green Christmas."
Mr Harrison pointed out that this is a pre-Christmas, limited time offer and encouraged travellers to contact their travel agents or Chaa Creek directly for further information and to ensure they have the opportunity to "join us in unwrapping the ultimate early Christmas present."
The Lodge at Chaa Creek is a multi award winning eco resort set within a 400-acre private nature reserve along the banks of the Macal River in Belize.
ENDS