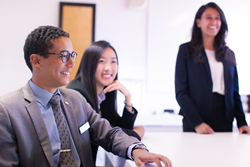 Today's young learners feel most engaged when participating actively in classroom discussions, solving problems and collaborating, assisted by educational technology tools.
Bluche, Switzerland (PRWEB) November 22, 2016
A new class of digital learners
Born between the 1990s and the 2000s, Generation Z has already started to enter university level education, bringing along a new set of expectations and new learning trends. Educational technology is an imperative part of the learning process for this post-millennial generation of digital natives, who demand engaging and interactive learning experiences. These students strive to create, curate, connect and build community, embodying the mindset that Google has termed "Generation C."
According to a recent study by Barnes & Noble College, over 50% of this generation of students say they learn best "by doing." Today's young learners feel most engaged when they are participating actively in classroom discussions, solving problems and collaborating, while they have a clear preference for educational technology tools, such as smartboards, digital textbooks, interactive websites, mobile apps, online videos and game-based or simulated learning. These tools not only transmit information through the online platforms and channels that digital natives know best, but also facilitate cooperation and content co-creation. As a result, students are empowered to take a proactive role in their own learning. They become the drivers of their own education.
Omnichannel consumers and demand for tech-savvy talent
University graduates are entering a job market where employers not only prefer but expect candidates to have digital skills and competencies. In the world of hospitality, technology has revolutionized products, jobs, consumer expectations and the consumer experience. Research released by MarkMonitor in 2016 revealed that 68% of global consumers exclusively book their travel plans online. Mobile commerce continues to grow worldwide, meaning that businesses need employees who can adapt quickly to fast-changing technology, analyze data rapidly and navigate multiple platforms to connect with consumers. The success of businesses and organizations depends on the maturity of students and future employees relative to technology. Recently, retail giant Alibaba achieved $17.8 billion in online sales on Singles' Day, breaking their own record. With foresight, business acumen and technological agility, companies can seize tremendous opportunities.
At the same time, many of the most innovative businesses disrupting the hospitality landscape are built on technology and online platforms, from sharing-economy apps like Hotel Tonight and Hot Hotels (developed by Les Roches Marbella graduate Adelaida Muriel) to Sublimotion's blend of fine dining and virtual reality. Bringing digital tools into everyday learning is thus fundamental if educators want to provide students with the skills to become change makers, actors and leaders within this industry.
The benefits of digital learning
The digital transformation of education goes beyond simply replacing printed materials with e-books, or paper exams with online tests. This transformation opens doors to flipped classroom learning, where faculty take on the role of mentors as opposed to lecturers. They inject content, coach and guide students as opposed to using the traditional methods of telling and teaching. They engage students in challenge-based learning. In such an environment, students take ownership of their learning. They search for content, and they connect together to look for solutions, innovate, take initiative and create.
In a 2016 survey conducted in 13 countries by The Pink Network, 95% of hospitality management students, alumni and professors said that visual and digital learning materials help to improve the learning experience. Students reported that digital materials make lectures more interactive, help them with focus and recall, and introduce them to real-life situations. Learning therefore becomes more reflective and active versus just receptive.
When lessons are no longer imparted through a one-way, teacher-to-student model, but are instead taught in a collaborative, hands-on, experiential manner — through information sharing and content co-creation — students are more engaged with the learning experience and develop skills for competitiveness and lifelong success.
Experiential learning and navigating digital eco-systems
Our experience shows that when students are presented with complex business challenges and tasked with finding relevant information to propose solutions, they develop the resilience and agility needed to confront real-world situations. Experiential learning has always been core to the curriculum at Les Roches, and our embrace of digital learning is a natural extension of our educational philosophy and model.
The integration of technology into everyday education allows for personalized learning as well as group interaction across the same communication tools, such as chat-based apps and collaborative media, that graduates will likely build or encounter in the workplace. Widening the curriculum to an engaging digital ecosystem of online resources, rather than limiting it to prescribed textbooks, means that we are urging our students and training them to become discerning, computational thinkers who are able to sift through vast amounts of information and accessible data. Consequently, our students cultivate crucial skills for today's digital era.
Preparing young talent for the digital workplace
Students who are entering higher education today have already internalized the everyday use of digital tools. As educators, we must keep ahead of the evolving trends in technology to ensure that we are providing our students with a relevant education and equipping them with the digital advantage.
Building a stimulating learning environment is as much about facilitating access to the latest gadgets and tools as it is about providing faculty guidance. With this in mind, Les Roches has opened an Innovation Lab for students where they can build prototypes, experiment with 3D printing, create mobile apps and multimedia content, and acquire media literacy as they develop their own creative mindset. Throughout their learning, students receive mentoring from passionate and dedicated faculty members who are experts in new technology and digital competencies.
Prioritizing digital learning not only prepares students with the technological skills to thrive in an increasingly digitally disrupted market, but also enables them to develop their own spirit of innovation and entrepreneurship. Students who develop these abilities within the currently evolving context of the hospitality sector are particularly well positioned to drive change and impact in the industry. Hospitality students naturally build on their soft skills, putting them ahead of the competition in terms of leadership, social intelligence and customer management. As we continue to witness today how more services within the hospitality and tourism industry are going digital, demand will surely rise for employees with trans-disciplinary competencies — leaders who approach their customers with emotional intelligence to deliver personalized, memorable and unique experiences.
Equipped with both customer-centric skills and technological savvy, 33% of our alumni have gone on to launch their own businesses, many of which rely on digital platforms and multichannel marketing. Seeing the success of our graduates reaffirms our belief in the value of digital learning and our commitment to providing students with opportunities to experiment, reflect and create.