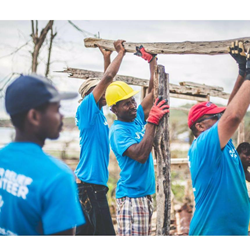 For more than 100 years, The Rockefeller Foundation's mission has been to promote the well-being of humanity throughout the world.
Mattapoisett, MA (PRWEB) November 23, 2016
All Hands Volunteers, the leading disaster relief organization powered by volunteers, has been awarded a grant of $150,000 by the prestigious Rockefeller Foundation to establish a Global Rapid Response Fund.
The Global Rapid Response Fund (GRR Fund) allows for All Hands Volunteers to pilot an innovative approach to the way disaster relief is paid for in order to increase resilience in affected communities. The aim is to enable responders to immediately launch responses based on need rather than the potential to cover costs through fund raising. The wider goal of the GRR Fund would be to serve as a platform through which to educate donors about the benefits of proactive rather than reactive disaster funding and promote positive changes in donor behavior.
In the wake of Hurricane Matthew, this funding enabled All Hands Volunteers to immediately deploy response teams to Haiti, while concurrently directing significant manpower and resources toward the US states of Florida and North Carolina. As a result, the organization was on the ground in Port Salut mere hours after the storm hit and quickly set to work assisting the affected communities. As such, the inaugural use of the pre-funding available through the GRR Fund signaled All Hands Volunteers' first simultaneous US and international responses to the same disaster event.
"We are incredibly grateful for this support from The Rockefeller Foundation," said Erik Dyson, Executive Director for All Hands Volunteers. "By nature, funding tends to occur post disaster. The whole premise of our model is to get straight in to the disaster zone and immediately get to work, rebuilding resilience and hope in the affected communities from the very outset. This is only possible with the requisite financial backing so this grant is absolutely invaluable to us."
About The Rockefeller Foundation:
For more than 100 years, The Rockefeller Foundation's mission has been to promote the well-being of humanity throughout the world. Today, The Rockefeller Foundation pursues this mission through dual goals: advancing inclusive economies that expand opportunities for more broadly shared prosperity, and building resilience by helping people, communities and institutions prepare for, withstand, and emerge stronger from acute shocks and chronic stresses. To achieve these goals, The Rockefeller Foundation works at the intersection of four focus areas—advance health, revalue ecosystems, secure livelihoods, and transform cities—to address the root causes of emerging challenges and create systemic change. Together with partners and grantees, The Rockefeller Foundation strives to catalyze and scale transformative innovations, create unlikely partnerships that span sectors, and take risks others cannot—or will not.
To learn more, please visit http://www.rockefellerfoundation.org.
About All Hands Volunteers:
Since its inception following the Indian Ocean earthquake and tsunami in 2004, All Hands Volunteers has responded to 69 disasters worldwide, including Hurricanes Katrina and Sandy, Typhoon Haiyan in the Philippines and last year's devastating earthquakes in Nepal. All Hands Volunteers has enabled over 37,000 volunteers to help more than 500,000 people impacted by natural disasters all over the world and has received Charity Navigator's highest 4 Star Rating.
HOW TO HELP:
Those who want to support All Hands Volunteers' efforts around the world can make a donation at http://www.hands.org/donate or apply to volunteer.
For more about All Hands Volunteers, visit http://www.hands.org