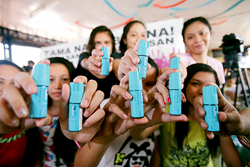 Over the last few years we've seen firsthand how a little can of pepper spray can boost these women's courage and self-esteem
Chicago, IL (PRWEB) November 22, 2016
This November, Kuros! and Willi Hahn Enterprises will provide 2,000 cans of SABRE pepper spray to women in Manila, Philippines.
In the Philippines, women and young girls are the targets of violence and sexual assault on a daily basis—sometimes even in their own homes.
This is why Kuros!, a US based lifestyle brand committed to changing women's lives on a global scale, continues their efforts in Manila with another distribution of their police strength pepper spray.
"Over the last few years we've seen firsthand how a little can of pepper spray can boost these women's courage and self-esteem," said Kuros! founder Kuro Tawil.
Kuros! has delivered free pepper spray across four continents. In the Philippines they have teamed up with Gabriela, the Alliance of Filipino Women working for freedom and democracy, to reach vulnerable women across the country.
Willi Hahn Enterprises, a local retailer of high quality outdoor sporting goods, is also a major player in the project. They will be delivering the pepper spray this November in honor of the United Nation's International Day for the Elimination of Violence against Women.
"Hahn is our importer and distributor in the Philippines and is key in getting our sprays to the women who need them," said Tawil. "They are working hard to help make their communities feel safe, and we couldn't ask for a better partner."
The pepper spray they will be distributing is made by SABRE, the number one brand trusted by police and consumers worldwide.
Each bottle features the highest strength formula on the market and contains up to 25 bursts each so women can protect themselves from multiple threats.
About
Kuros! is a humanitarian lifestyle brand whose buy one, give one business model has put vital self-defense products in the hands of women around the world. From South Africa and India to El Salvador and Manila, they're giving women a fighting chance at protecting themselves from assault and living their fullest lives without fear.