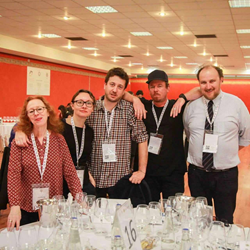 Wine Without Walls, with it's no scoring philosophy and a criteria based solely on the belief that wine is totally subjective, is revolutionary--especially in the context of a more traditional fair such as Vinitaly.
(PRWEB) November 22, 2016
Alice Feiring, internationally known author, journalist and wine consultant, will be at wine2wine 2016, for a tasting of Italian natural wines that received special recognition during the first Wine Without Walls competition this past Spring, and for a session that will address the challenges of working with traditional markets like Japan and the USA, two of the most important markets for unconventional Italian wines.
On December 7th, Alice will be joined by Angiolino Maule, natural winemaker and founder of the natural wine fair, Vinnatur, for the session, Unconventional Wines in Traditional Markets: Japan and USA. They will discuss everything from the current economic climate, the role of the importer, and the demanding artisan wine consumer and their thirst for information. As this thirst grows, so does the pressure mount for winemakers to make personal appearances around the world. Angiolino and Alice will talk about how to strike a balance between vineyard, cellar and travel.
During a special tasting on December 5th, the eve of wine2wine, Alice will lead participants through the unique parameters she created to evaluate natural wines for the Wine Without Walls awards. The guided tasting will include wines from Emidio Pepe, Radikon, Cá De Noci, Cascina Tavijn, Podere Giardino, and Azienda Agricola Altura. She explains, "Wine Without Walls, with it's no scoring philosophy and a criteria based solely on the belief that wine is totally subjective, is revolutionary--especially in  the context of a more traditional fair such as Vinitaly." She continues, "On December 5th, I'll get to taste some of the winners in a seminar and drill down into the qualities we judges are looking for. I can't wait to see the participants reactions. It should be fun. But whatever the response, I trust in the categories I developed. They make total sense. What's more, the idea that a wine is judged not on tangible but on emotional impact is totally understandable to those who truly make natural wine from the soul."
Wine Without Walls was created in 2015 by Stevie Kim, Director of Vinitaly International, to address the ever-growing presence of natural wines, a category that defies comparison with the standards of traditional wines. This award is meant to celebrate the wines made with grapes alone, that manage to be soulful and simply glorious. It would have been impossibile to judge this category of wines by traditional criteria, so Stevie enlisted the help of New York writer and journalist, Alice Feiring, perhaps the most influential and outspoken advocate for natural wines.
Alice chairs a panel of four judges from the USA, Australia, and Italy, who do not score wines, but look for a wine that demonstrates at least six of eight qualities, including evolution in the glass, emotional impact and transparency. In addition, there are parameters to ensure that the wines are practically natural from the ground up. Wine Without Walls is open to natural winemakers from around the world. Applications are still being accepted for the next competition to be held on March 31, 2017. (http://www.vinitaly.com/en/exhibitor-area/vinitaly-international-competitions/judges-winewithoutwalls/)
Check out the entire wine2wine program h http://www.wine2wine.net/program-w2w-2016 contact us at info(at)wine2wine(dot)net. Don't forget to check wine2wine's social platforms for updates https://www.facebook.com/wine2wine and https://twitter.com/wine2wineVerona, and share your experience by using the hashtag #wine2wine.
About:
Veronafiere is the leading organizer of trade shows in Italy including Vinitaly (http://www.vinitaly.com), the largest wine and spirits fair in the world. During its 50th edition Vinitaly counted more than 4,100 exhibitors on a 100,000+ square meter area and 130,000 visitors from 140 different countries. The next edition of the fair will take place on 9 - 12 April 2017. The premier event to Vinitaly, OperaWine (http://www.operawine.it) "Finest Italian Wines: 100 Great Producers," will unite international wine professionals on April 8th in the heart of Verona, offering them the unique opportunity to discover and taste the wines of the 100 Best Italian Producers, as selected by Wine Spectator. Since 1998 Vinitaly International travels to several countries such as Russia, China, USA and Hong Kong thanks to its strategic arm abroad, Vinitaly International. In February 2014 Vinitaly International launched an educational project, the Vinitaly International Academy (VIA) with the aim of divulging and broadcasting the excellence and diversity of Italian wine around the globe. VIA this year launched the second edition of its Certification Course and today counts 54 Italian Wine Ambassadors and 3 Italian Wine Experts.
###