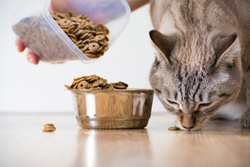 London, UK (PRWEB UK) 23 November 2016
In this latest cat advice guide Katzenworld and one of it's contributors are taking a look at how to choose the best food for a cat.
Cats are Obligate Carnivores - This means that they need meat not only to survive, but to also thrive. This also means that they must eat meat primarily as their main source of food.
Add some Veggies and Whole Grains - While this will help with digestion owners will want to watch out for hidden carbs that won't be good for a cat.
Consider Age-Appropriate Diet - As a cat ages it becomes important to reduce calorie intake and often provide softer meats, especially if cats start loosing teeth.
Keep treats to a minimum and choose healthy alternatives such as Green & Wilds natural cat treats sold by Katzenworld.
For the full cat owner guide to best food options check out the detailed guide on the cat blog Katzenworld.
About Katzenworld:
Katzenworld is an online cat magazine working on providing cat owners and cat lovers with their number one source for:

Insight on cat care
Top cat events
Cat Cafes
Cat products