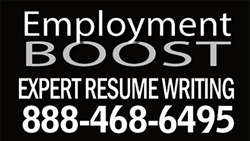 The importance of having a resume of the highest quality cannot be understated
(PRWEB) November 25, 2016
Life is too short to work in a job that is not fulfilling. Industry leading professional resume writing company, Employment BOOST, understands this and is offering an abundance of deals for the Monday after Thanksgiving 2016. With over a decade of experience helping professionals land their dream roles, no firm is better equipped to prepare you for the transition into a new career.
At 50% off on Cyber Monday, for only $119, clients will be able to secure the premium professional resume writing service.
The deals don't stop there! For executives looking to make a career move, or professionals looking to take their careers to the next level, the premium executive resume writing service will be available for only $169. Clients will save more than 50% over standard prices by signing up for either executive or professional resume writing services this Monday.
"The importance of having a resume of the highest quality cannot be understated," said Alex Noelke, a Career Services Manager at Employment BOOST. "With a huge deal on either a professional or executive resume service, preparing to enhance your career is a no-brainer!"
Signing up with Employment BOOST will gives professionals a distinct advantage over competing job applicants. Each resume purchase includes a personal phone consultation with a career expert, optimization for keyword indexing SEO Value in Applicant Tracking Systems, and priority access to JMJ Phillip openings (a nationally renowned executive search firm).
About Employment BOOST:
Employment BOOST is a Troy, Michigan and Chicago, Illinois based company that provides professional resume writing services and critiquing, executive resume services, cover letter development, resume distribution, social media profile creation, and interview coaching to job seekers across the nation. For more than a decade, Employment BOOST has consistently been helping people achieve career satisfaction. Employment BOOST uses talented industry experts to tailor resumes to the key content that hiring managers seek. For more information on Employment BOOST, please call 888-468-6495 or visit http://employmentboost.com.
.