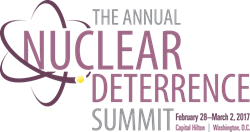 "This summit comes at a critical time for nuclear executives as policy makers prepare for these changes, and industry decision makers prepare to react, and the ExchangeMonitor team is pleased to be able host this forum
Washington, D.C. (PRWEB) November 28, 2016
The Nuclear Deterrence Summit, presented by ExchangeMonitor Publications & Forums, Nuclear Security & Deterrence Monitor, and Defense Daily, has announced its agenda along with several confirmed speakers joining the 2017 program taking place February 28-March 2, 2017 at the Capital Hilton.
The Nuclear Deterrence Summit, now in its ninth year, will offer decision makers and industry influencers from both the public and private sectors the opportunity to discuss the impact that President-elect Donald Trump will have on the global and domestic nuclear industry. With the upcoming transition to new U.S. leadership and the growing debate over how to balance national defense needs with global disarmament efforts, all eyes remain on policy makers, industry officials, and stakeholders throughout the U.S. nuclear enterprise. The Summit will once again bring these leaders together for the most timely discussions on the United States' role in arms control and nonproliferation, potential changes to U.S. nuclear posture under a new president, and the dynamic nature of this country's relationship with international allies and adversaries.
Over the course of three days, more than 350 NNSA representatives, industry executives, government officials, site and lab managers nationwide, and more will listen in on and participate in discussions during panel sessions, point-counterpoint debates, keynote presentations, and roundtables including:

Reevaluating U.S. Tactical Nuclear Weapons Deployed in NATO Countries
Beyond U.S. – Russian Arms Control
The Case for U.S. Nuclear Weapons in the 21st Century
U.S.-Russia Debate: Continuing the Conversation
Future of MOX
3+2 Warhead Modernization Strategy and Refurbishment Update
NNSA Labs and National Security Challenges
Nuclear Terrorism, Nuclear Smuggling and Reducing Nuclear Dangers
Alternatives to the Current Nuclear Modernization Efforts
Extended Regional Nuclear Deterrence and Missile Defense
Cybersecurity Challenges
NNSA Budget and Procurement Update
And more!
The full agenda, complete with session descriptions, is available online at http://www.deterrencesummit.com.
"The ExchangeMonitor team is excited to facilitate a lively exchange of ideas with the overall theme discussing how the incoming Trump administration will impact the nuclear industry, including increasing funding, adding to the existing nuclear research and development, managing the stockpile, our international relationships and beyond," said Nancy Berlin, Program Manager, ExchangeMonitor Forums. "This summit comes at a critical time for nuclear executives as policy makers prepare for these changes, and industry decision makers prepare to react, and the ExchangeMonitor team is pleased to be able to host a forum that brings together these decision makers, influencers, and more for the forward-facing discussions about the impact of a new administration."
The 2017 Nuclear Deterrence Summit has also announced confirmation of more than a dozen speakers from both government agencies and industry-leading organizations. Confirmed speakers include:
James Acton, Co-Director, Nuclear Policy Program, Carnegie Endowment
Barry Blechman, Co-Founder, Stimson Center
Robert Degrasse, Vice President and Manager of Government Affairs, Bechtel
David Del Vecchio, President and Project Manager, CB&I AREVA MOX Services, LLC
Michaela Dodge, Senior Policy Analyst, Defense and Strategic Policy, Davis Institute for National Security and Foreign Policy, The Heritage Foundation
Todd Harrison, Director, Defense Budget Analysis and Senior Fellow, Center for Strategic and International Studies
John Harvey, former Principal Deputy Assistant Secretary of Defense for Nuclear, Chemical and Biological Defense Programs, U.S. Department of Defense
Rebeccah L. Heinrichs, Fellow, Hudson Institute
Peter Huessy, Director for Strategic Deterrent Studies, Mitchell Institute for Aerospace Studies, Air Force Association
Hans Kristensen, Director, Nuclear Information Project, Federation of American Scientists
James N. Miller, President, Adaptive Strategies, LLC
Keith B. Payne, CEO and President, National Institute for Public Policy
Alissa Tabirian, Reporter, Nuclear Security & Deterrence Monitor
David C. Trimble, Director, Natural Resources and Environment Group, United States Government Accountability Office (GAO)
Frank N. von Hippel, Professor and Co-Director of Program on Science and Global Security, Princeton University
Visit http://www.exchangemonitor.com/nuclear-deterrence-summit-2017-speakers/ for more confirmed speakers, updated weekly.
Registration is open for the 2017 Nuclear Deterrence Summit, and the deadline to save $100 on registration is Friday, December 9, 2016. To register, visit http://www.deterrencesummit.com. The Nuclear Deterrence Summit will take place February 28-March 2, 2017 at the Capital Hilton in Washington, D.C.
To learn more about the program, visit http://www.deterrencesummit.com.
About ExchangeMonitor, a division of Access Intelligence, LLC
ExchangeMonitor Publications & Forums, founded by the late Edward Helminski, was acquired by Access Intelligence, LLC in March 2015. ExchangeMonitor publishes professional newsletters and creates, manages and sponsors forums, colloquiums and workshops to facilitate an exchange of views and information among government officials, private industry executives, non-governmental organizations and other entities on critical national and international programs and policies.
About Access Intelligence, LLC
Access Intelligence, LLC, a portfolio company of Veronis Suhler Stevenson, is a b-to-b media and information company headquartered in Rockville, Md., serving the media, PR, cable, healthcare management, defense, chemical engineering, satellite and aviation markets. Leading brands include Weapons Complex Monitor, RadWaste Monitor, Nuclear Security and Deterrence Monitor, GHG Reduction Technologies, Defense Daily, Cynopsis, Cablefax, PR News, Folio:, AdMonsters, Event Marketer, LeadsCon, Chief Marketer, Media Industry Newsletter, Defense Daily Network, Aviation Today, Studio Daily, Power and Via Satellite. Market-leading shows include The Radwaste Summit, The Decisionmakers' Forum, The Nuclear Deterrence Summit, LeadsCon, CCUS Conference, The Folio: Show, Event Marketer Summit, Satellite 2016, OR Manager, LDC Trade Forums, Clean Gulf, Electric Power, Energy Ocean and Offshore Communications. Access Intelligence also produces executive conferences for the healthcare, PR, media, cable, energy and defense markets.