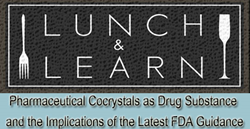 Cocrystals are one of the many innovative ways that SSCI uses to solve the solid-state chemistry problems that arise during drug development to create valuable intellectual property for our clients
West Lafayette, IN (PRWEB) November 30, 2016
SSCI, the established leader in small-molecule cocrystal technology and development, will again bring together industry experts to discuss the implications of the latest FDA guidance on pharmaceutical cocrystals as drug substance. The Lunch and Learn will take place on December 8, 2016 in Cambridge, MA.
The event follows the successful November 15th event that took place in Burlingame, CA. Eyal H. Barash, JD of Barash Law, LLC and Chief Patent Counsel to SSCI and Dr. Steef Boerrigter, Group Leader in Materials Science at SSCI, provided participants with an engaging introduction to the technical aspects of cocrystals and innovative patent strategies as a result of FDA's dramatic about-face on its classifications of cocrystal. The regulatory and intellectual property implications cannot be understated which is why the attendees in Burlingame extended the 90-minute program for another 75-minute question and answer session to explore:

What regulatory pathway would be used if an ANDA sponsor does both a salt switch and a cocrystal of the new salt?
Are only bioequivalent cocrystals ANDA candidates?
When is the right time to file a cocrystal patent application?
How do cocrystal patents differ from other solid form patents such as salts and single-component polymorphs?
How should formulation or method of treatment patents be incorporated into a cocrystal- intellectual property strategy?
How important is it to get generic cocrystal coverage under this new paradigm and how would go about doing so?
How does Europe view cocrystals and salts from both a regulatory and patent perspective?
"The perspectives we are sharing during these Lunch and Learns demonstrate SSCI's deep understanding of cocrystals," stated Dr. David Engers, senior director and site head at SSCI. "Cocrystals are one of the many innovative ways that SSCI uses to solve the solid-state chemistry problems that arise during drug development to create valuable intellectual property for our clients."
To register for the December 8th event go to http://www.ssci-inc.com. Event location details:
Marriott Cambridge
50 Broadway
Cambridge, MA
Space is limited for this engaging forum on the topic of pharmaceutical cocrystals. Given the importance of strong composition of matter protection in any small-molecule drug development program, the presentation is especially important to those charged with re-tasking drugs or developing compounds where standard composition of matter protection expiration is looming. Lunch service will start at 11:30 AM (local time), with a scheduled 90-minute presentation starting at approximately 12:00 PM (local time). The presenters will make themselves available for Q&A afterwards.
About SSCI SSCI, a division of Albany Molecular Research Inc., provides industry leading contract solid-state and analytical testing services and exists to help companies in the pharmaceutical, food, agrochemical, and other chemical industries develop better products and get them to market more quickly. Over the past quarter century, SSCI has provided comprehensive cGMP research and analytical services in the characterization and chemistry of solid materials, with particular expertise in small and large molecules being investigated for pharmaceutical use. As the AMRI's Center of Excellence for Solid State Chemistry, its offerings include early candidate support services (in vitro analysis, stability, solubility, dissolution, excipient compatibility), solid form screening and polymorph, salt and cocrystal screening, form selection, particle engineering (process development, particle size method development), property improvement, crystallization of difficult materials, process control, biochemical analysis, full analytical chemistry support including method development and validation, intellectual property consulting and litigation support, and related research activities.
For more information about cocrystals or SSCI's other solid-state services, please contact 1-800-375-2179 | http://www.ssci-inc.com.