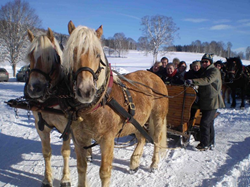 San Francisco, Calif. (PRWEB) November 22, 2016
It may be home for the holidays for many, but Christmas is becoming a popular time to travel, with city skylines glittering with illuminations and enough festive delicacies to make everyone loosen their belt buckles a few notches. Viator, a TripAdvisor company and the leading resource for tours and activities worldwide, has compiled a list of some of the most popular cities that really turn it on for the holidays, guaranteed to get travelers into a festive spirit.
1. New York: New York's most famous tourist spots get a yuletide makeover in the run-up to Christmas. Kick off the celebrations VIP-style at the iconic Rockefeller Center Christmas Tree-Lighting Party, enjoy the Radio City Music Hall Christmas Spectacular, marvel at the festive homes featured on the Brooklyn Christmas Lights Tour of Dyker Heights, stroll along Fifth Avenue where the shops are aglow with festive window displays or go ice skating in Central Park.
2. Chicago: Midwesterners know a thing or two about celebrating Christmas, and Chicago is a hub of wintry fun in the holidays. Glide past major windy-city holiday mainstays including Daley Plaza's Christmas tree and the traditional German-style Christkindlmarket, Macy's festive window displays, and the Millennium Park ice skating rink on Viator's Chicago Holiday Lights Segway Tour, or sample holiday treats on the Chicago Holiday Stroll and Food Tour.
3. Paris: Spend Christmas in the world's most romantic city, Paris, where the City of Light lives up to its nickname with a glittering display of Christmas lights that travelers will enjoy on Viator's Paris Christmas Lights Tour. Shop for gifts beneath the iconic Eiffel Tower or at one of the many Christmas-themed markets, indulge in an elegant holiday meal on a Seine River cruise, or create a traditional Christmas dinner under the tutelage of an expert chef.
4. Rome: With a massive Christmas market in the heart of Piazza Navona and dazzling illuminations running above the city's main shopping streets, the already vibrant Rome is at its most spirited over the holiday season. Viator's Christmas Time Walking Tour visits Rome's most famous sites including the nativity scene and Christmas tree at St. Peter's Square. Or enjoy a professional guided tour of Rome on Christmas morning complete with the "Urbi et Orbi" Papal Blessing at St. Peter's Basilica.
5. Budapest: The ancient buildings of Budapest shimmer with Christmas lights in the winter months, making it a perfect time to explore the many Christmas markets adorned with festive decorations, stocking fillers and local foods; enjoy ice skating on the Városligeti-tó lake with the towering Vajdahunyad Castle as backdrop; or sled with the locals at Normafa Park.
6. Germany: There may be no better way to get into the festive holiday spirit than a visit to a bustling Christmas market in Germany. Enjoy the oldest Christmas market in Dresden, Munich's huge Marienplatz market and Tollwood Winter Festival, or Berlin's hugely popular Christmas market, held on the grounds of the stunning Charlottenburg Palace. Viator's Berlin Christmas Lights Tour includes ample time to shop for handmade crafts and enjoy hot mulled wine.
7. London: As the inspiration behind Charles Dickens' famous novel "A Christmas Carol," London has no shortage of festive traditions to keep visitors entertained over the holidays. Enjoy the spectacular array of Christmas lights with an evening bike tour, Christmas lunch in the English countryside, a Thames River sightseeing cruise with Santa, vibrant Christmas markets, and more.
8. Switzerland: With the snow-blanketed Alps and world-class ski resorts, Switzerland is a country made for winter. Explore festive and fun-filled Christmas markets in Geneva or Zurich while shopping for unique gifts and enjoying traditional Swiss treats. If it's spectacular views you're after, the Mt. Pilatus Christmas Market is Switzerland's highest at a breathtaking 2,133 meters.
9. Sydney: Don't be fooled into thinking a hot Christmas can't be festive. Sydney's iconic skyline blazes even brighter during the holidays, with the famous Sydney Harbour Bridge and Opera House part of the Christmas lightshow – enjoy their festive lights on Viator's Christmas buffet lunch cruise. On land, Christmas markets and carol singers liven up the streets, and the annual Santa Fest at Darling Harbour sees Mr. Claus arrive by boat beneath an explosion of fireworks.
10. Austria: With elaborately woven Advent wreaths, nativity displays and sparkling tree ornaments, Austria's handcrafted Christmas decorations are just one of the reasons to visit the region's numerous holiday markets. Enjoy a quintessential Christmas experience on a horse-drawn sleigh ride through the picturesque countryside around Salzburg; dine on a four-course meal on Christmas Eve in the Renaissance-era Weikersdorf Castle in the Austrian Alps; attend a Christmas Eve mass at Salzburg's Silent Night Chapel; or spend an enchanting evening listening to classical music and enjoying a gourmet dinner at the elegant Kursalon Vienna concert hall.
For more information on Viator's tours and activities worldwide – as well as the latest deals, promotions, contests and news – visit http://www.viator.com or follow Viator on Facebook (ViatorTours) and Twitter (ViatorTravel).
About Viator
Viator is the leading global tours and activities provider for travelers, delivering online and mobile access to thousands of pre-vetted travel experiences including tours, activities and attractions in more than 2,400 destinations worldwide. Viator's team travel insiders delivers the scoop on the best things to do wherever you travel including more than 1 million verified traveller reviews and photos, exclusive videos and expert travel tips; along with the assurance provided by 24/7 in-house customer support and global low-price guarantee. In addition to the flagship site – Viator.com – travelers can book in advance or at the last minute via the Viator Tours & Activities App, and 11 local-language sites for European, Latin American and Asian travelers. Viator also provides tours and activities to more than 3,000 affiliate partners including some of the world's top airlines, hotels and online travel agencies.
Founded in 1995 and acquired by TripAdvisor (NASDAQ: TRIP) in 2014, Viator is headquartered in San Francisco with regional offices in Sydney, London and Las Vegas. Travelers can like, follow and find Viator on Facebook, Google+, Instagram, Pinterest, Twitter and YouTube and explore and book experiences at http://www.viator.com.