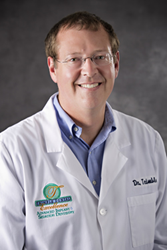 Menomonie, WI (PRWEB) November 22, 2016
Dr. Bruce Trimble now offers dental implants to new patients with missing teeth. As a respected dentist in Menomonie, WI, Dr. Trimble is proud to specialize in minimally-invasive treatment techniques that have helped thousands of patients with various dental issues.
Dr. Trimble is a highly experienced dentist in Menomonie, WI, and has provided many patients with diagnosis and treatment of their various dental problems. One of the highly effective treatment options he offers for those who have lost one or more teeth, is the placement of dental implants. This treatment option is a permanent solution for tooth loss that is safe and reliable. Patients who are looking for an alternative to other common tooth replacement options are invited to learn about the many benefits that implants can provide.
In addition to their durability, implants are created to match the look of the patient's surrounding teeth as closely as possible. This helps ensure that the implants do not stand out from the other teeth, but appear natural. Implants also restore patients' dental functionality and make it possible to enjoy a variety of foods and eat a well-balanced diet. When a tooth is lost, the bone beneath the affected area typically begins to degrade due to lack of stimulation by the tooth's roots. Over time, the degradation can become so severe that the patient cannot receive implants without first undergoing bone grafting procedures. When implants are quickly placed in the bone after tooth loss, they stimulate bone growth and prevent unnecessary bone loss.
Patients with missing teeth are invited to visit a dentist in Menomonie, WI and find out if they have sufficient bone mass to support dental implants. Appointments can be scheduled with Dr. Trimble by calling his practice, Trimble Dental Excellence, at (715) 235-1108, and speaking with an office representative.
About the Doctor
Trimble Dental Excellence is a general practice offering personalized care for patients in Menomonie, WI. Dr. Bruce Trimble offers a variety of services, including advanced dental implants and sedation dentistry. Dr. Trimble is a graduate of the University of Minnesota and has dedicated his professional career to providing you with the best that dentistry has to offer. He is continually educating himself and his staff on the newest techniques and advances to offer you state-of-the-art, antiseptic, personalized & comfortable dental care. Dr. Trimble is a fellow of the International Congress of Oral Implantologists & the Misch International Implant Institute. He is also among the few dentists in Wisconsin who are licensed for IV sedation and has received a certificate from the Temple School of Dentistry for Surgical Oral Implantology. To learn more about the services offered at Trimble Dental Excellence, please visit their website, http://www.trimbledental.com or call (715) 235-1108 to schedule an appointment.