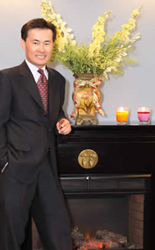 Garden Grove, CA (PRWEB) November 22, 2016
People who want to replace their missing teeth with All-on-4® dental implants in Garden Grove, CA, can now visit Dr. Jin Kim, who is accepting new patients to his practice with or without referrals for this procedure. The revolutionary All-on-4® technique, which attaches a customized dental prosthesis to as few as four dental implants, provides patients with a secure, functional set of teeth. In addition, this procedure lets Dr. Kim give patients a new smile in just one appointment.
The unique design of All-on-4® implants offers several health benefits for patient with multiple missing teeth in need of full-arch tooth replacements. These implants hold the attached prosthesis in place so securely that patients can eat varied and healthy diets, speak naturally and enjoy greater self-esteem. The implants also help halt the jaw bone density loss that would otherwise occur after tooth loss. The flexible nature of this technique, which lets Dr. Kim place implants wherever a patient has the most bone density remaining, makes this procedure available to people who might not qualify for individual implants. This procedure also eliminates the waiting period associated with single implants, so Dr. Kim can give patients a functional denture the same day that they receive dental implants in Garden Grove, CA.
Dr. Kim, who has trained extensively and is known as a world-renowned periodontist, takes several steps to ensure the best results for every patient who visits his office for All-on-4® implants. To plan the placement of the implants, he uses 3D digital x-rays, which produce more detailed images than conventional x-rays. This advanced imaging technique helps Dr. Kim choose an implant placement that avoids contact with other oral structures, such as nerves and sinus cavities. The 3D planning software at his office further enables Dr. Kim to create an accurate, efficient treatment plan that meets each patient's long-term needs.
To learn more about the All-on-4® tooth replacement technique and its benefits, patients should visit Dr. Kim's website at http://www.drjinkim.com. New patients who are ready to schedule consultations about receiving dental implants in Garden Grove, CA, are invited to do so through the website or by directly calling his office at (714) 898-8757.
About the Doctor
Dr. Jin Y. Kim is a periodontist dedicated to providing personalized dental care in Diamond Bar and Garden Grove, CA. Dr. Kim attended the University of Sydney Faculty of Dentistry before furthering his education with an advanced degree in pathology from the Medical School of the same University. Dr. Kim completed a periodontics and implant surgery residency at UCLA School of Dentistry. A uniquely dual board-certified specialist, Dr. Kim was board-certified by the American Board of Periodontology and the American Board of Oral Implantology/Implant Dentistry. The International Congress of Oral Implantologists and the American Academy of Implant Dentistry both gave him the title of Fellow. He was also inducted to be a Fellow of the prestigious American College of Dentists. Dr. Kim enjoys lecturing at UCLA School of Dentistry as well as national and international academic and clinical associations and universities including the International Association of Dental Research, American Academy of Periodontology and Academy of Osseointegration. To learn more about Dr. Jin Kim and the services he offers, visit his website at http://www.drjinkim.com or call (909) 860-9222 for the Diamond Bar location or (714) 898-8757 for the West Garden Grove location to schedule an appointment.