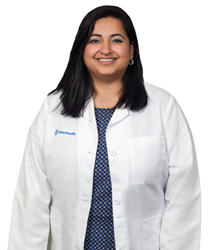 I feel passionate about educating and empowering women to make well-informed decisions.
Columbus, Ohio (PRWEB) November 29, 2016
Northeast OB/GYN, a division of MaternOhio, is pleased to welcome Dr. Ashita Gehlot, MD to its practice. She is currently accepting new patients at locations in Gahanna and Old Stringtown Rd. in Grove City.
An experienced Ob/Gyn physician, Dr. Gehlot offers care for every stage of a woman's life, from adolescence through menopause and beyond. Her services include care of normal and high-risk pregnancies, preconception counseling, well-woman annual health visits, minimally invasive surgery for ovarian and uterine issues and much more. As a convenience to her patients, her office offers appointment scheduling, prescription refill requests and access to test results online, and provides early morning appointment options.
Dr. Gehlot attended the Medical College of Georgia in Augusta, GA, for her medical education. She pursued obstetrics and gynecology because it offered a variety of experiences in one distinct field and allowed for creating lasting relationships with patients and their families. She did her Internship and Residency in the Department of Obstetrics and Gynecology at the University of Arkansas for Medical Sciences in Little Rock, AR. She practiced in Little Rock after graduating from residency.
"I feel passionate about educating and empowering women to make well-informed decisions," said Dr. Gehlot. "I strongly feel patient- and family-centered care with cooperative decision making between the patient and physician leads to the best medical decision that suits the patient's lifestyle, resources and limitations. It's important to take a woman's whole health picture into consideration when working with a patient."
Dr. Gehlot is excited about moving to Columbus and practicing in the area. "It is a privilege to work with the Columbus community and usher women through different stages of their lives and respond to their evolving needs."
MaternOhio Clinical Associates, Inc. (MOCA) is Ohio's largest and most experienced private OB/GYN practice. They provide specialized women's healthcare services to more than 100,000 patients annually throughout 16 locations.
To learn more about Northeast OB/GYN MaternOhio and request an appointment, visit http://moca-obgyns.com.
About OhioHealth
OhioHealth is a nationally recognized, not-for-profit, charitable, healthcare organization with Methodist roots. Based in Columbus, Ohio, OhioHealth has been recognized as one of the top five large health systems in America by Truven Health Analytics, an honor it has received six times. It is also recognized by FORTUNE Magazine as one of the "100 Best Companies to Work For" and has been for 10 years in a row, 2007-2016.
Serving its communities since 1891, it is a family of 28,000 associates, physicians and volunteers, and a network of 11 hospitals, 50+ ambulatory sites, hospice, home-health, medical equipment and other health services spanning a 47-county area.
OhioHealth hospitals include OhioHealth Riverside Methodist Hospital, OhioHealth Grant Medical Center, OhioHealth Doctors Hospital, OhioHealth Grady Memorial Hospital, OhioHealth Dublin Methodist Hospital, OhioHealth Hardin Memorial Hospital, OhioHealth Marion General Hospital, OhioHealth O'Bleness Hospital, OhioHealth Mansfield Hospital, OhioHealth Shelby Hospital and OhioHealth Rehabilitation Hospital. For more information, please visit our website at http://www.ohiohealth.com.