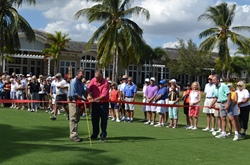 "We are all excited with the new nines, and these improvements to Delaire's course bring it in line with the clubhouse and related facilities, which underwent a $21 million improvement project in November 2011." - Art Newman, Past President
Delray Beach, FL (PRWEB) November 23, 2016
On November 10, 2016, Delaire County Club opened its Hills and Lakes golf courses, two nines that are part of a project to be completed with the opening of the Woods course in mid December. A flyover drone video captured the day's excitement.
Led by renowned golf course architect Kipp Schulties and implemented by industry leader Southeastern Golf, Inc., the comprehensive project includes the following:

New green complexes.
Practice facility modifications.
Lake bank restoration and dredging.
Cart path modifications.
Fairways and rough re-grassing.
New landscaping and aesthetic improvements.
Courtesy station modernization.
Concurrent with the opening of the course, Delaire is featured in the November/December issue of The Prospertere, an online luxury lifestyle magazine. In commenting on why The Prospertere selected Delaire to feature in the November/December issue, editor Sam Hustler said, "at The Prospertere magazine we pride ourselves on featuring the best communities around and found Delaire fit perfectly with our standards of luxury, class, and quality. When it comes to top of the line luxury homes and amenities, Delaire Country Club is a clear front runner."
For more information about Delaire's construction project, visit the golf renovations page, call 561-499-9090 or email admin(at)delaire(dot)org.
# # #
Delaire Country Club, located in Delray Beach, FL, is a private golf community. The Club, which features 27 holes of championship golf, no tee times, 8 tennis courts, a luxurious clubhouse, state-of-the-art fitness center, gourmet dining, tennis, and ladies' and men's card rooms, is a recipient of the prestigious Distinguished Gold Club of the World award, as determined by the annual Distinguished Clubs of the World award program conducted by BoardRoom magazine, one of the most respected trade publications serving private clubs.
The Prospertere is an online luxury lifestyle publication produced by New York Media Group.