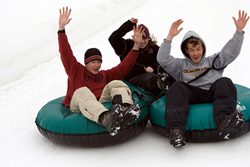 While shoppers may differ in their shopping timelines, the goal remains the same, to find the perfect gift for your loved ones...a good way to do this is to shop Franklin County and give the gift of local, quality products..."
(PRWEB) December 02, 2016
As the holidays approach, the hunt begins for the perfect gifts for everyone, from friends and family, to the family pets. Some shoppers start early, others shop year-round to get the perfect gifts.
While shoppers may differ in their shopping timelines, the goal remains the same, to find the perfect gift for your loved ones that will make them light up Christmas morning. A good way to do this is to shop Franklin County and give the gift of local, quality products not found anywhere else. Franklin County Visitors Bureau has compiled a list of gift ideas from all over the county. Some of these gift ideas include:
-Ski, Snowboard & Tubing Tickets to Whitetail Resort
Give the gift of adventure this Christmas with lift tickets to ski, snowboard or tubing at Whitetail Resort! Located in Mercersburg, Whitetail Resort has 25 different trails to skiiers and snowboarders and many tracks for those wanting to go tubing for a high speed race! The resort recently expanded their dining options and also offers night skiing for those looking for something different. From on-site rentals, purchases, lockers and more, pick up tickets for an adventure-filled gift.
-Catch a live musical or theatrical show at Totem Pole Playhouse, PA Opry and the Capitol Theatre
There is nothing like live theater, music and performance. From the young to young at heart, seeing a performance is an experience that is priceless. PA Opry, held in the historic Star Theatre in Mercersburg, and called the Branson of the Northeast, has shows that take visitors on a journey with old favorites, sounds of the 50s, patriotic tunes, country, gospel and cowboy ballads. In downtown Chambersburg, feel the spirit of theater at the Capitol Theatre. Built in 1927, the theatre is the anchor of the downtown, housing the Chambersburg Ballet Theatre and Chambersburg Community Theatre and also brings a variety of national and international performances to the stage. For a unique experience, check out the Totem Pole Playhouse, a special spot hidden among the pine trees of Michaux State Forest. This theater offers intimate, live performances for smaller crowds. Why not give the gift of entertainment and a unique experience this Christmas?
-Local Art and Classes from The Foundry
The Foundry, the local art collective in Chambersburg, is open to the public and sells beautiful works of art. Whether it is paintings, metalwork, sketches or other works of art, these unique works of art by the members of The Foundry make a one-of-a-kind gift that won't be forgotten. The Foundry also recently released a coloring book made up of original works of art by its members called "Color Me Foundry." Gift cards are available for purchase and also include classes that are taught at the collective that cover a wide range of artistic specialties!
-Something To Warm You Up from Abednego Coffee Roasters and C&C Coffee
Do you know a coffee lover? What about delicious hot chocolate? It's hard to get fresher coffee beans and grounds than from Abednego Coffee Roasters in Chambersburg. The organization started in 2008 and air roasts their coffee in small batches for quality and only uses fairly-traded coffee. They also donate 25% of their sales to non-profit organizations around the world so every bag of fresh coffee not only makes a good gift but contributes to people in need. In downtown Chambersburg is C&C Coffee, which proudly serves Abednego Coffee with their delicious coffee creations and also other treats like teas, smoothies and pastries. Treat someone you love to a gift basket of coffee or a gift card for a few cups to relax from a stressful week.
-Something Locally Made and Delicious from Whispering Brook Cheese Haus
There is nothing quite like delicious cheese made from happy, grass fed cows. This raw milk cheese has been produced since 2004 when Whispering Brook Farm wanted something to supplement their milk sales with other products. They make delicious cow and goat cheese, including Colby Longhorn, Cheddar, garlic chive, dill and bacon, Italian, and Havarti. They are made hormone and antibiotic free cheeses with only sea salts as flavoring. Their cheeses can be ordered online and shipped all over the world.
-Handforged Creations from Burdette Ironworks in Mercersburg
Want something unique and created from iron in your own backyard? Burdette Ironworks does quality artisan metal work out of their furnace in Mercersburg. From wall art, artwork, pet products such as leash sets, serving dishes, ornaments, stools, fire pits and plant stands, Burdette Ironworks has creations for every member of the family, including the four-legged ones. Each item is handcrafted and some items can be personalized to make a one-of-a-kind creation for the holidays.
For the full listing of gift ideas, visit http://www.explorefranklincountypa.com/12-days-christmas-gifts-franklin-county/
The Franklin County Visitors Bureau invites all to explore Franklin County, PA and enjoy the history, arts, recreation, natural beauty, fresh foods and warm hospitality of communities like Chambersburg, Greencastle, Mercersburg, Shippensburg, and Waynesboro. Franklin County, PA is located just north of the Mason Dixon Line and an easy drive to Washington DC, Philadelphia, and Pittsburgh. Discover more….plan your visit at ExploreFranklinCountyPA.com by contacting 866.646.8060 or 717.552.2977.