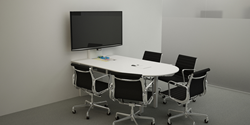 FORm_AV cuts construction costs and increases ROI.
New York, NY (PRWEB) November 23, 2016
Innovant is pleased to announce its strategic partnership with IVCi, a leading integrator of audio-visual solutions.
IVCi provides collaboration services that remove barriers and connect teams. With solutions that blend technology and furniture, IVCi offers an exemplary operational process and support. By leveraging this expertise, Innovant offers clients an unmatched level of superior furniture tailored specifically for interactive spaces.
Innovant and IVCi's partnership relies on the award-winning FORm_AV Conference Suite. This flexible and cost-effective line of furniture is not only functional but also aesthetically pleasing. With minimalist construction and smart user-centric features, FORm_AV strikes the perfect balance between sophistication and simplicity to achieve a signature aesthetic while providing practical amenities.
"This new line of products cuts construction costs and increases ROI," explains Tim Hennen President at IVCi. FORm_AV "simplifies the wiring and structural requirements of any implementation. With superior cable management and the ability to mount displays onto furniture instead of walls, it provides a space that's both visually impressive and comfortable, while also reducing implementation expenses."
Modular in design, FORm_AV is both economical and adaptable. It maximizes the use of office space and can easily be moved to another location or changed to fit a "reimagined" office. Since the design enables easy access for service, it also offers improvements in reliability and uptime.
For information about Innovant or its products, please visit http://www.innovant.com.
About Innovant: Innovant is a renowned industry leader creating intelligent, adaptable furniture for the modern workplace. For over twenty-five years, Innovant's substantial contributions to office and trading environments have resulted from the sophisticated products and close collaboration Innovant supplies to clients and designers. With a flagship showroom located in New York, Innovant maintains a worldwide network of offices and showrooms spanning North America, Europe and Asia.