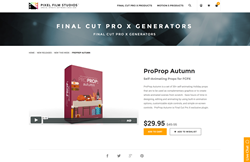 ProProp Autumn is a set of 30 self-animating holiday props that are to be used as complementary graphics or to create whole animated scenes from scratch
Aliso Viejo, California (PRWEB) November 29, 2016
"ProProp Autumn is a set of 30 self-animating holiday props that are to be used as complementary graphics or to create whole animated scenes from scratch," said Christina Austin - CEO of Pixel Film Studios.
The ProProp Autumn package features self-animating presets that allow video editors to effortlessly place props into any scene. Build an office environment using dinner tables, holiday food, pumpkins, garlands and more. Utilize accessory objects to stack on table tops and walls. Hang lights and decor from the ceiling. Stack ProProp presets limitlessly in FCPX.
ProProp Autumn features customizable animations, colors, dimensions, and even shadows. Choose from 8 animation options in an intuitive drop down menu, edit the colors, and add a drop shadow with basic sliders. Make the perfect prop for occasions ranging from a family dinner to a seasonal experience like football or shopping. Get creative with ProProp generators.
ProProp objects can be used to complement any Final Cut Pro X production. Use ProProp to build any scenes and complement pictures and videos without the headache of keyframes or complicated animation tools. To use ProProp, simply drag a preset into the Final Cut Pro X timeline and use the on-screen controls to orient the object.
ProProp features intuitive controls that allow users to adjust the style and orientation of each animation preset. Editors can determine the scale and position of props with incredible ease. Additionally, ProProp allows users to adjust the animation anchor point. The possibilities are endless.
Established in 2006, Aliso Viejo, California-based Pixel Film Studios is an innovative developer of visual effects tools for the post-production and broadcast community. Their products are integrated with popular non-linear editing and compositing products from Apple FCPX. Apple, the Apple logo, Mac OS X, and Macintosh are registered trademarks of Apple Inc. in the U.S. and/or other countries. All other trademarks and trade names are the property of their respective owners.