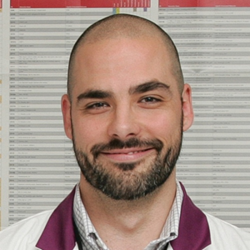 Yorba Linda, Ca (PRWEB) November 23, 2016
When using a flow cytometry core facility, researchers commonly evaluate how to process their cellular samples most efficiently, while also ensuring the highest quality and reproducibility of their data. In this webinar, sponsored by Miltenyi Biotec, case studies and examples will be presented on the how the Miltenyi Biotec line of instrumentation, including the gentleMACS™ Dissociator, autoMACS® Pro Separator and MACSQuant® Analyzer, has improved the performance and quality of research projects in a core facility setting.
Participants of the webinar will learn best practices for optimizing sample preparation and experimental design for cell analysis that will help researchers get the most out of their flow analysis. Some key topics of discussion will include increased yield and reproducibility during tissue dissociation, efficient rare cell sorting through pre-enrichment and decreased time spent cleaning and maintaining instruments.
Chris Spring, a flow cytometry core specialist at St. Michael's Hospital Research Institute in Toronto, will be the speaker for this webinar.
Spring received his Master of Science in cellular and molecular biology from McMaster University in Ontario. He has spent nearly 15 years working in cell biology, primarily working on analyzing the role of platelets in immunological and cardiovascular diseases. For the past six years, Spring has run a flow cytometry and cell sorting core facility serving nearly 45 laboratories and 500 scientists in the Keenan Research Centre for Biomedical Science at St. Michael's Hospital. He also currently serves as the co-president of the Canadian Microscopy and Cytometry Association.
LabRoots will host the webinar, with no cost for participants, beginning at 9 a.m. PT, 12 p.m. ET on November 30, 2016. To read full event details or to register for free, click here.
About Miltenyi Biotec
Miltenyi Biotec is a global provider of products and services that advance biomedical research and cellular therapy. The company's innovative tools support research at every level, from basic research to translational research to clinical application. This integrated portfolio enables scientists and clinicians to obtain, analyze, and utilize the cell. Miltenyi Biotec's technologies cover techniques of sample preparation, cell isolation, cell sorting, flow cytometry, cell culture, molecular analysis, and preclinical imaging. Their more than 25 years of expertise spans research areas including immunology, stem cell biology, neuroscience, and cancer, and clinical research areas like hematology, graft engineering, and apheresis. In their commitment to the scientific community, Miltenyi Biotec also offers comprehensive scientific support, consultation, and expert training. Today, Miltenyi Biotec has more than 1,500 employees in 25 countries – all dedicated to helping researchers and clinicians around the world make a greater impact on science and health.
About LabRoots
LabRoots is the leading scientific social networking website and producer of educational virtual events and webinars. Contributing to the advancement of science through content sharing capabilities, LabRoots is a powerful advocate in amplifying global networks and communities. Founded in 2008, LabRoots emphasizes digital innovation in scientific collaboration and learning, and is a primary source for current scientific news, webinars, virtual conferences, and more. LabRoots has grown into the world's largest series of virtual events within the Life Sciences and Clinical Diagnostics community.