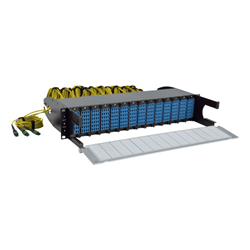 Our new 40 Gb breakout panels combine the flexibility of a modular solution with out-of-the-box convenience
Chicago, IL (PRWEB) November 30, 2016
Tripp Lite, a world-leading manufacturer of power protection and connectivity solutions, has introduced a new series of pre-assembled 40 Gb to 10 Gb Breakout Fiber Patch Panels that are populated with high-density breakout cassettes that include two-meter built-in MTP® cables. These rack-mount fiber patch panels are designed for quick connection of 10 Gb equipment, such as servers, routers and firewalls, to a 40 Gb switch.
As networks become faster, integrating equipment of different speeds into network infrastructure becomes a necessity. Many IT application engineers accomplish this task with custom breakout cables, which can be costly and difficult to reconfigure as needs change. The MTP cables in Tripp Lite's solution are integrated into the breakout cassettes and connect to the QSFP transceivers on a 40 Gb switch. The cassettes break out the 40 Gb switch connections into multiple 10 Gb connections. From there, high-quality, off-the-shelf duplex LC cables are used to connect 10 Gb equipment to the 10 Gb ports on the cassette. This modular solution from Tripp Lite reduces cable clutter, uses readily available LC cables, scales to accommodate growth and supports future 100 Gb and 400 Gb network speeds.
Tripp Lite's pre-assembled breakout fiber patch panels feature Base-8 cabling and are available in 1U and 2U configurations for singlemode (8.3/125) and OM4 multimode (50/125) fiber applications.
Key Features
-- Pre-installed cassettes for 40 Gb to 10 Gb connections: 15 MTP to 60 Duplex LC or 42 MTP to 168 Duplex LC
-- Built-in MTP cables for reduced insertion loss and quick deployment
-- Organized cable management and clearly labeled connections
-- Seamless integration with 40 Gb switches from a variety of manufacturers
-- Modular design for easy cassette changes
-- Accommodation for future growth and upgrades
"Our new 40 Gb breakout panels combine the flexibility of a modular solution with out-of-the-box convenience," said David Posner, Tripp Lite Vice President of Marketing for Cables & Connectivity. "Quick deployment and organized cable management make these pre-assembled fiber patch panels a simple, convenient alternative to breakout cables. They are the perfect complement to 40 Gb switches."
For more information and to view the full line, visit: Tripp Lite Pre-Assembled Breakout Fiber Patch Panels.
About Tripp Lite
Outstanding product reliability and exceptional service have been Tripp Lite trademarks for over 90 years. Tripp Lite´s innovations include the world's first UPS system designed specifically for personal computers and the world's most trusted premium surge protector—the Isobar®—with more than 19 million in use. Tripp Lite maintains the highest level of ready-to-ship inventory in the industry with more than 3,500 different products, including UPS systems, rack systems and cooling solutions, PDUs, PowerAlert software for enterprise-level system management and control, surge protectors, KVM switches, cables and connectivity products, inverters, power strips and notebook accessories. Headquartered in Chicago, Illinois, Tripp Lite maintains a global presence with fully staffed offices worldwide. Additional information, including a list of Tripp Lite's sales offices and authorized reseller partners, can be found by visiting Tripp Lite's website: http://www.tripplite.com.