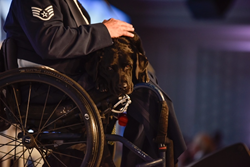 We are extremely proud to support Canine Companions and their mission of helping change the lives of our veterans in need.
Dana Point, California (PRWEB) November 28, 2016
A record-breaking 500 attendees convened Veteran's Day Weekend for The Diamond Ball at The Ritz-Carlton, Laguna Niguel to raise money for The Canine Companions Veterans Initiative. More than $575,000 was raised to help fund the training of service dogs by Canine Companions.
According to Bruce Brainerd, general manager of The Ritz-Carlton, Laguna Niguel and founder of The Diamond Ball and Yappy Hour, "For those veterans making a new start putting their lives back together from an injury or those suffering from PTSD, a Canine Companions service dog provides the assistance they need to regain their independence and we are extremely proud to support Canine Companions and their mission of helping change the lives of our veterans in need."
This year's Diamond Ball included a musical performance by the Winners of the X Factor, Alex and Sierra, as well as a lavish four-course dinner prepared by the resort's Executive Chef Brian Sundeen. The evening also honored Staff Sergeant Jason Morgan, United States Air Force (Ret.), and his service dog Rue, as well as Anne Roberts, recipient of the Geneva Davis Award, recognizing leadership in individuals who have been ambassadors of Canine Companions' program and its goals to promote and inspire volunteers and volunteer activity.
Additionally, the evening featured a fast-paced live auction showcasing an array of items – from the Real Posh Pups of Orange County PUParrazi Party to a bronze sculpture by renowned artist Richard MacDonald. The biggest auction item of the evening was an eight-day Tuscan Villas escape to Cortona, Italy, which sold twice, each for $12,500.
Proceeds from The Diamond Ball and Yappy Hour support The Canine Companions Veterans Initiative. With a dramatic increase in wounded veterans, The Veterans Initiative™ provides an opportunity for veterans to regain their independence through the support of Canine Companions assistance dogs. To date, Canine Companions has placed more than 180 assistance dogs to assist veterans, with 37 active teams from the Southwest Region.
# # #
About Canine Companions for Independence
Founded in 1975, Canine Companions is a non-profit organization that enhances the lives of people with disabilities by providing highly-trained assistance dogs and ongoing support to ensure quality partnerships. Headquartered in Santa Rosa, CA, Canine Companions is the largest non-profit provider of assistance dogs, and is recognized worldwide for the excellence of its dogs, and the quality and longevity of the matches it makes between dogs and people. The result is a life full of increased independence and loving companionship. The tasks each Canine Companions assistance dog learns can be life-changing. From retrieving dropped house keys, opening a door, pulling a manual wheelchair or alerting to a fire alarm, Canine Companions assistance dogs help make daily physical tasks possible and open doors to new opportunities. For more information, visit cci.org or call 1-800-572-BARK.
About The Ritz-Carlton, Laguna Niguel
The Ritz-Carlton, Laguna Niguel sits perched atop a seaside bluff with panoramic views of the Pacific Ocean and more than three miles of sandy beach. The resort continues to redefine the guest experience by creating distinctive, unforgettable, and #EpicMemories that are presented against an extraordinary backdrop. A re-imagined surfside retreat that awakens guests' senses with its unique ocean-front setting and remarkable service heritage, the resort is the premiere destination for travelers who desire a playful approach to true Southern California luxury. The resort offers many extraordinary luxury experiences including Raya, 180blũ, The Market Place, enoSTEAK, Bar Raya, The Spa and the Eco-Adventure Center. For more information or reservations call 800-241-3333, the hotel directly at 949-240-2000, a travel professional or visit http://www.ritzcarlton.com/LagunaNiguel.