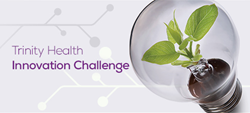 We created the Innovation Challenge to drive bold innovation that transforms our industry and the communities we serve
Livonia, Mich. (PRWEB) November 23, 2016
Trinity Health has announced the five recipients of grants under its inaugural Innovation Challenge, a program that will invest $1.7 million in grants over the next 18 months for identifying, funding and implementing ideas to improve care and reduce readmission rates for patients who are dually eligible for Medicare and Medicaid.
"We created the Innovation Challenge to drive bold innovation that transforms our industry and the communities we serve," said Scott Nordlund, executive vice president, Growth, Strategy and Innovation, Trinity Health. "Congratulations to the grantees for their innovative solutions with tremendous potential for helping our Ministry and our industry become even more people-centered."
Trinity Health selected the following winners from 67 internal and external applicants from around the world. Each awardee will partner with a Trinity Health local ministry to pursue their idea:

AgeWell Global: "Employing Older Adults as Companions with a New Technology to Reduce Hospital Admissions" (in partnership with Holy Cross, Fort Lauderdale, FL), $350,000
Jvion: "Applied Artificial Intelligence to Stop Dual Eligible Patient Readmissions" (in partnership with St. Joseph Health, Syracuse, NY), $324,000
Mercy Health (Muskegon, Mich.): "Community Aging in Place, Advancing Better Living for Elders," $350,000
Trinity Health At Home: "Whatever it Takes: A 24/7 Triage and PRN Treatment Service" (national program), $350,000
Trinity Health At Home: "Hospital at Home" (national program), $350,000
In the U.S., nearly 11 million people are covered by both Medicare and Medicaid. These "dual eligible" patients represent a group comprised of low-income seniors and younger people with disabilities whose care is frequently very complicated and challenging.
"Dual eligible patients have complicated and costly medical needs and we can really make a difference for them by offering more coordinated care and by enabling them to engage more fully with their own care," said Anna Marie Butrie, vice president, Innovation Program and Services for Trinity Health. "These Innovation Challenge awardees presented breakthrough ideas for delivering more personalized, people-centered care to people in our communities who are covered by both Medicaid and Medicare."
According to the Henry J. Kaiser Foundation, some of the key characteristics that distinguish dual eligible patients from typical Medicare beneficiaries include:
Very low incomes (55 percent have annual incomes below $10,000, compared to 6 percent of other Medicare beneficiaries)
Substantial health needs (half are in fair or poor health, more than twice the Medicare rate)
More likely to have mental health needs
More likely to live in nursing homes
Dual eligible patients also have higher 30-day and 90-day readmission rates. During a recent three-month period, dual eligible patients cared for by Trinity Health's Accountable Care Organizations experienced readmission rates about 106 percent higher than that of non-dual eligible patients
.
About Trinity Health
Trinity Health is one of the largest multi-institutional Catholic health care delivery systems in the nation, serving diverse communities that include more than 30 million people across 22 states. Trinity Health includes 93 hospitals, as well as 120 continuing care programs that include PACE, senior living facilities, and home care and hospice services. Its continuing care programs provide nearly 2.5 million visits annually. Based in Livonia, Mich., and with annual operating revenues of $16.2 billion and assets of $23.4 billion, the organization returns almost $1 billion to its communities annually in the form of charity care and other community benefit programs. Trinity Health employs about 97,000 full-time employees, including 5,300 employed physicians. Committed to those who are poor and underserved in its communities, Trinity Health is known for its focus on the country's aging population. As a single, unified ministry, the organization is the innovator of Senior Emergency Departments, the largest not-for-profit provider of home health care services — ranked by number of visits — in the nation, as well as the nation's leading provider of PACE (Program of All Inclusive Care for the Elderly) based on the number of available programs. For more information, visit http://www.trinity-health.org. You can also follow @TrinityHealthMI on Twitter.
###