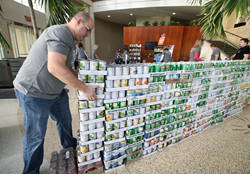 Okemos, MI (PRWEB) November 23, 2016
Delta Dental of Michigan's Take a Bite Out of Hunger employee food drive amped up its giving this year.
With a goal to donate 9,000 food items for local families in need, employees more than doubled that goal, collecting 22,671 food items.
"Our employees are the heart of our philanthropic efforts and they blew us away this year," said Teri Battaglieri, Director of Communications, Corporate Citizenship and Philanthropy at Delta Dental. "We are thankful that we can help and raise awareness of the importance of proper oral and overall health. It's difficult to lead a successful, productive life if you are experiencing food insecurity, oral health pain or other health issues."
Delta Dental employees were encouraged to bring in nonperishable goods Nov. 10-18 to benefit the Greater Lansing Food Bank.
In addition to the food donation, the company matched $1 per food item donated. The monetary donation of $22,671 will be earmarked for the local organization, Many Hands, to purchase food for school children who might otherwise go hungry over the weekends.