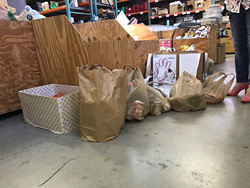 We're so happy to give back to our community and love seeing the donation turnout
Fort Lauderdale, FL (PRWEB) November 23, 2016
In their continued dedication towards helping the local community, Exults has just wrapped up their Thanksgiving Food Drive that will benefit Kids In Distress of Broward (KID). KID was looking for donations of food to help them run their annual Thanksgiving Day feast. Exults reached out to their many clients and asked them to drop off any food at their Fort Lauderdale office.
These pounds of food donations will go towards helping families across Broward County to have a happier Thanksgiving. KID was looking for the many traditional ingredients that make for a great meal including mashed potatoes, cranberry sauce, green beans, and any dessert items. KID was also accepting Publix gift cards for anyone that did not have the time to shop. This gives KID the chance to purchase any items they may have been missing for Thanksgiving Day.
In the Thanksgiving spirit, the Exults team members decorated the outside of their donation box with everyone's hand turkey drawings. With the many donations received, Exults ran out of room in their donation box and had to bring the rest in various bags. As Zach Hoffman, CEO of Exults, says "We're so happy to give back to our community and love seeing the donation turnout. KID is a great organization that really understands what it means to be thankful on Thanksgiving."
Kids In Distress of Broward and Palm Beach counties (KID) is a licensed nationally accredited agency working for the prevention of child abuse, preservation of the family, and the treatment of abused and neglected children. From their beginnings as a small shelter in 1979, KID programs have expanded into a comprehensive continuum of care that fills the gaps and meets the needs of at-risk children and families in our community. Over the years, they have expanded their scope of service, built a campus, and created a working culture driven by compassion, trust, and safety. Today, KID boasts the 5-acre Leo Goodwin Foundation Campus in Broward County with a satellite office in Palm Beach County; community-based programs such as prevention, intervention, foster care, family counseling; and educational programs such as preschool and aftercare.
Celebrating its 10th Anniversary, Exults is a full-service internet marketing company that is results driven for its clients and offers a complete range of internet marketing services to reach its clients' goals. Exults offers premier services include Website Design, Search Engine Optimization, Pay Per Click Management, Social Media Marketing, Video Optimization, Image Enhancement and Digital PR. Exults CEO/President Zach Hoffman oversees and manages the day-to-day operations of the growing Fort Lauderdale-based internet marketing agency.
For more information, please visit the Exults website or call us at 954-763-1130.