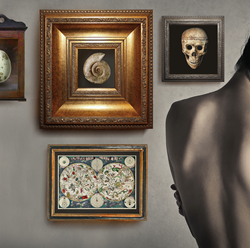 "It's about self-worth", says Rachel McRae, former stripper and author of "Daughters of Science"
Mesa, Arizona (PRWEB) November 23, 2016
Parents nationwide want to show their daughters that they can achieve anything, including presidency.
"It's about self-worth," says Rachel McRae, author of Daughters of Science and a former stripper, "if a teenage girl decides the best way to find her own worth is to match what she sees in the media, then guess where her priorities will be? Certainly not in the classroom."
McRae references the middle school phantom phenomenon, where girls perform neck and neck with the boys in science and math one year, and then suddenly decline in grades or interest in school the next, supposedly to avoid being marked as smarter than the boys.
If girls believe they need to be pretty to succeed, McRae believes between 6th and 7th grade is where young girls' actions begin to hinder their long-term future.
"Girls are dumbing themselves down to fit an ideal image. What they look like becomes more important than what they can accomplish. In a case like that, did they create their own glass ceiling or was it imposed on them?" McRae asks, noting that no matter who is to blame for it, the images that girls are trying to create for themselves can affect their later potential.
Rachel McRae is the author of "Daughters of Science: A Memoir", about science, stripping, and the search for truth. After a party at a fraternity house hits national news, Rachel is forced to examine her priorities. Now available on Amazon.
You can search for this book on Amazon, or follow this shortened link: goo.gl/WABEQg
For additional information or media inquiries, contact Glass Beaker Publishing: 602.773.1336