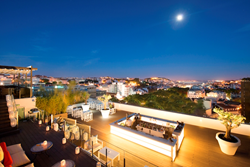 Lisbon, Portugal (PRWEB) November 23, 2016
Cyber Weekend has come to Tivoli Hotels & Resorts. From November 25-28, travelers can indulge with our irresistible special offer and benefit from exclusive savings of up to 30%.
After Black Friday fever, the Cyber Monday phenomenon promises to offer a last minute holiday, a getaway weekend break or your next stay at your favorite Tivoli hotel, all at very special price. Exclusive on tivolihotels.com, travelers have four days book at the best rate and guarantee Tivoli's excellent service.
There's an immediate 30% off for stays of 2 or more nights between November 25, 2016 and March 31, 2017 at Tivoli hotels in Portugal:
Lisbon:

Tivoli Lisboa
Tivoli Jardim
Tivoli Oriente
Sintra:

Tivoli Sintra
Tivoli Palácio de Seteais
Coimbra:

The Algarve:

Tivoli Victoria
Tivoli Marina Vilamoura
The Residences at Victoria
Tivoli Lagos
Tivoli Marina Portimão
In Brazil, the Tivoli Ecoresort Praia do Forte is offering 20% off for stays of 4 or more nights, from November 25, 2016 to December 26, 2017-- more than one year to discover this truly amazing resort at a unique price.
In addition, the cosmopolitan Tivoli Mofarrej São Paulo is offering 20% off for stays of at least 2 nights from February 2 to December 31, 2017.
See all the conditions here.
Editor's Note:
Tivoli Hotels & Resorts are part of the Minor Hotel Group and currently operate 12 properties in Portugal and two in Brazil. With over 80 years of experience, Tivoli Hotels & Resorts differentiate through the range of unique experiences offered, allowing guests to enjoy the most authentic features of every destination along with innovative and outstanding service. In Portugal, Tivoli hotels can be found in the main tourist destinations: the cosmopolitan city of Lisbon, the romantic town of Sintra and close to the beaches and golf courses of the Algarve. In Brazil, Tivoli operates in the vibrant city of São Paulo and the warm and welcoming Bahia. Tivoli Hotels & Resorts are part of the Global Hotel Alliance, an international alliance of more than 30 brands which offer their guests the DISCOVERY loyalty programme. In addition to special privileges and personalized services at over 550 hotels worldwide, this programme also entitles members to amazing local experiences.
facebook.com/tivolihotels
instagram.com/tivolihotels
youtube.com/tivolihotels
twitter.com/tivolihotels
Minor Hotels (MH) is an international hotel owner, operator and investor currently with 152 hotels in operation. MH passionately explores new possibilities in hospitality with a diverse portfolio of properties designed intelligently to appeal to different kinds of travellers, serving new passions as well as personal needs. Through our Anantara, AVANI, PER AQUUM, Oaks, Elewana, Tivoli, Four Seasons, St. Regis, Marriott and Minor International properties, MH operates in 22 countries across Asia Pacific, the Middle East, Africa, the Indian Ocean, Europe and South America. With dynamic plans to expand existing brands and explore strategic acquisitions throughout opportunistic markets, MH pursues a vision of a more passionate and interconnected world. For more information, please visit http://www.minorhotels.com.
For further information, please contact:
2BPR, Inc.
Jessica Bradford
jessica(at)2bprinc(dot)com
626-379-2381
Emily Baldwin
Emily(at)2bprinc(dot)com
973-346-2580