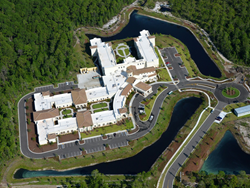 St. Augustine, FL (PRWEB) November 22, 2016
Adolfson & Peterson (AP) recently completed a new senior living facility in St. Augustine, FL, located near the intersection of Lightsey Rd and SH 207.
The new facility includes a 33-acre master plan development consisting of a multi-story senior living center with120 Assisted Living and Memory Care units.
The construction team managed immense weather challenges to bring this project to successful completion, including Hurricane Matthew as well as several deluge rain events depositing over five inches of rain.
The facility is currently under inspection, with plans to move residents in at the end of November.
About Adolfson & Peterson Construction
Adolfson & Peterson Construction is a U.S.-based, privately held firm that is consistently ranked among the top 50 construction managers and general contractors in the nation. Founded in 1946, the company has built longstanding commitments to the regions in which it operates and is known nationally for its innovative and collaborative approaches within the building industry. Adolfson & Peterson Construction serves the education, multifamily, healthcare, energy, commercial, municipal and senior living market segments from its offices in Charlotte, Dallas, Denver, Minneapolis, and Phoenix. For more information, visit http://www.a-p.com and follow us on Facebook, LinkedIn and Twitter.