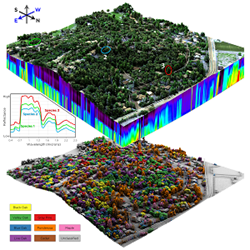 Norcross, GA (PRWEB) November 28, 2016
Quantum Spatial, Inc., the nation's largest independent geospatial data firm, today announced that its principal R&D scientist Scott Nowicki will present at the CEATI International Vegetation Management Conference, December 6-7 in Scottsdale, Ariz. Nowicki, an expert in remote sensing and geospatial technology, will explain how the combination of remote sensing and advanced machine learning techniques can streamline utilities' efforts to mitigate tree-related risks. He will be joined by Eric Woodyard, program manager of Technology & Innovation Programs at PG&E. Woodyard will discuss how PG&E uses the latest technologies to forecast tree mortality and to reduce the risks hazard trees pose to the company's energy infrastructure.
At Quantum Spatial, Nowicki leads projects in spectral analysis for habitat modeling, precision agriculture, tree species mapping, greenhouse gas monitoring, infrastructure inspection, vegetation mapping for utilities, and unmanned aircraft systems deployment. Scott earned a PhD in geoscience from Arizona State University, where he worked on projects related to the San Andreas fault and proposed Mars missions.
Woodyard began his utility vegetation management career working as a consulting utility arborist in 2002. He joined PG&E in 2007 and in 2014 expanded the utility's remote sensing efforts to electric distribution, where he now serves as the principal architect for developing the Vegetation Management Remote Sensing Program. Woodyard is a certified arborist and utility specialist, and earned a B.A. in Biology from Pacific Lutheran University and an M.B.A. from UC Davis.
The presentation, "Advancements in Network Mapping, Species Assessment and Risk Tree Modeling for Utility Vegetation Management," is scheduled for Tuesday, December 6, at 8:05 a.m.
The session will explain how Quantum Spatial's advanced solution for large-scale vegetation mapping and management can assist with assessing tree health and identifying the presence of endangered or invasive vegetation species. With the data collected through high-density LiDAR and high-resolution hyperspectral imaging, Quantum Spatial can deliver valuable situational intelligence, enabling electric utilities to identify precisely where their facilities are, which tree species surround the facilities and where to focus on mitigating risks due to vegetation encroachment or tree failure. Nowicki also will showcase the latest refinements to Quantum Spatial's tools, which include machine learning classification routines capable of supporting massive quantities of data, as well as ways to streamline and minimize field-based training data collection.
The third annual CEATI Vegetation Management Program (VM) is designed for electrical utility employees who manage vegetation programs. The agenda focuses on program development and management, including budgeting, work planning, addressing regulatory issues, managing contractors, and setting standards and guidelines for the work.
About Quantum Spatial, Inc.
Quantum Spatial, Inc., (QSI) the nation's largest independent geospatial data firm, provides geographic insights to the largest government and corporate organizations that need geospatial intelligence to mitigate risk, plan for growth, better manage resources and advance scientific understanding. A pioneer in advanced mapping technology, QSI's end-to-end solutions and services deliver the industry's highest data quality and accuracy, while leveraging the widest array of technologies for analyzing all types of terrains. Customers use the company's acquisition, processing, analytics and visualization solutions in a range of technical and scientific disciplines – from geology and biology, to hydrology, forestry and civil engineering. Utilities, oil and gas producers, engineering and construction firms, as well as the military and major government agencies, are QSI customers. QSI has multiple offices around the country. For more information visit quantumspatial.com, join us on LinkedIn or follow us on Twitter @QuantumSpatial.