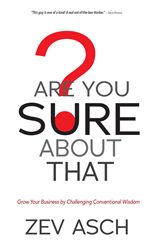 Business success is dependent on the ability to recognize change and adapt
Staten Island, NY (PRWEB) November 23, 2016
Boulevard Books is pleased to announce that Syosset-Woodbury, Long Island based entrepreneur just published a new business book which made the Amazon "Hot New Books" list.
"Are You Sure About That? - Grow Your Business by Challenging Conventional Wisdom" by Zev Asch a Woodbury Resident and President of LEDAZA INC.
Boulevard Publishing has selected this book because it represents a fresh new approach to teaching entrepreneurs how to grow their business. As Mr. Asch states:
"In thirty plus years of traveling around the world working for small businesses, I learned one lesson that rises above all others; the one and only constant in business is change. Entrepreneurs can't survive by blindly adhering to formulas for success; business success is dependent on the ability to recognize change and to adapt. Personal growth is driven by an insatiable ambition to learn. And so, one of the most valuable abilities you should have as a business owner is the willingness to doubt. While we live in a world that has conditioned us to seek certainty, doubt is our great protector; the ability to question effectively helps us to stay relevant. Using newly acquired knowledge prevents us from being 'stuck' in our ways. The word around us moves quickly and so should we if we are going to keep up."
"Are You Sure About That?" chronicles an over thirty years experience from what Mr. Asch calls "the trenches of small business." The book does not feature the common "tips, tricks or magic formulas for success" but rather case studies and observations from Mr. Asch's extensive international business career.
Mr. Asch is available for interviews and public speaking and can be reached at the following:
(O) 516.802.7343
(M) 631.875.4103
(E) zev(at)ledaza(dot)com
(W) http://www.ledaza.com
Boulevard Books is an educational publishing company that aims to publish the newest voices of the 21st century by empowering authors with ownership of their work. Founded in 2010 by educator and author, Avi Gvili, it strives to equalize the historically unfair relationship between author and publisher.