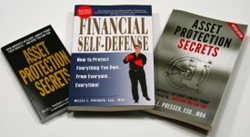 For every 60 minutes you spend making money, spend 60 seconds thinking about how to protect it!
Boca Raton, Florida (PRWEB) November 29, 2016
Domestic Asset Protection includes strategies that are utilized within the United States. Domestic Asset Protection strategies include financial exemption planning (ie: homestead protection), Domestic Limited Liability Companies ("LLC"), Domestic Limited Partnerships, etc. In contrast, International Asset Protection takes advantage of strategies that are available outside of the United States. For instance, this can include the International Trust and/or the International LLC. Deciding whether to use International Asset Protection and/or Domestic Asset Protection strategies largely depends on an individual's net worth and the type of assets an individual owns. Often times, individuals benefit from using both strategies together.
1. Utilize Asset Exemption Planning
In the United States, certain assets are automatically exempt from creditor threats. In other words, nothing else needs to be done to protect the assets other than prove ownership of them. Exempt assets include: homestead property, retirement accounts, life insurance, annuity contracts, college savings plans, wage accounts and other miscellaneous assets such as hurricane savings accounts. Asset exemptions vary from state to state. Review the exemptions in your state at the following link: http://bit.ly/2gKV3gg. Individuals should take advantage of such exemptions and then protect the remaining assets using Domestic and/or International Asset Protection.
2. Create a Domestic Asset Protection Foundation
The foundation of your Asset Protection Plan will always include a domestic structure. Depending on an individual's particular assets, this may include the Limited Liability Company, the Limited Partnership, or another protective entity. Real estate owned in a person's individual name benefits from an LLC protective structure in the state where the real estate is located. Further, assets such as jet ski's and boats should also be accounted for in their own protective entity located in the United States. Individuals with a net worth of five hundred thousand ($500,000.00) dollars or more should consider moving some or most of their assets Internationally. This can be done using the International Asset Protection LLC and/or Trust.
3. Analyze the Benefits of the International Asset Protection Limited Liability Company
Money is safest outside the country and beyond the reach of the American legal system. An International Limited Liability Company is an LLC located outside of the United States. Nevis, an island in the Caribbean, features great LLC laws for Asset Protection. A Nevis LLC can be member-directed or managed by a foreign director. After setting up the Limited Liability Company, an individual contributes assets to the company to become a member. One advantage of the Nevis LLC is immunity from liability for the managing directors and members of the Nevis LLC. Corporate formalities are also relaxed with the Nevis Limited Liability Company since it does not require annual minutes, annual director and/or member meetings or compliance with other customary domestic corporate formalities.
4. Analyze the Benefits of the International Asset Protection Trust
The International Asset Protection Trust is another form of International Asset Protection, however, it allows for more privacy than the International LLC and greater flexibility than Domestic Trusts. For instance, if a United States court issues a Repatriation Order with regard to the trust assets, the International trustee must refuse your demand. The International trustee can also move trust assets to another jurisdiction if there is an imminent creditor threat. Further, an International trustee can, if necessary, withhold distributions to a beneficiary who has creditors. Therefore, your trust funds will not be turned over to the creditor.
5. Choose the Most Protective International Asset Protection Jurisdiction
Certain International financial centers ("IFC") feature extremely protective banking, privacy, estate planning, and most importantly, powerful asset protection laws. Some International financial centers are much more protective than others. As mentioned above, the Island of Nevis is a great International Asset Protection jurisdiction. Experienced Asset Protection Attorneys know the best jurisdictions and will structure your plan around these jurisdictions.
The Presser Law Firm P.A., Asset Protection Attorneys, represents individuals and businesses in connection with the establishment of comprehensive Asset Protection plans that incorporate both domestic and international components.
Visit the Law Firm's Visit the Law Firm's website (http://www.AssetProtectionAttorneys.com) for access to educational material on asset protection, business law, estate planning, and probate including webinars, articles and detailed legal explanations.
Contact The Presser Law Firm, P.A., Asset Protection Attorneys for a Complimentary Preliminary Consultation with one of our attorneys or to receive complimentary copies of our latest best-selling books on Asset Protection.
"For every 60 minutes you spend making money, spend 60 seconds thinking about how to protect it!" states attorney Hillel L. Presser, Esq., MBA regarding the importance of protecting your assets proactively.