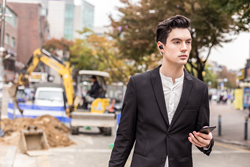 We [Orfeo SoundWorks] dedicated years developing a new noise-cancelling technology and integrated it with the headset
IRVINE, CA (PRWEB) November 22, 2016
ORFEO SoundWorks, a CES 2016 Innovation Award winner in the headphones category, came out with the new technology that can enhance communication in loud industries. These industries such as construction, manufacturing, and military are filled with noise, and it often interferes crucial communication that sometimes involves someone's life. Yet, ORFEO's new 'noise-blocking' technology removes every industrial noise and only transfers your voice to the other person.
"We are very happy to introduce this new technology that will change way people communicate now," said Tommy Kim, founder and CEO of ORFEO SoundWorks. "There are industries that are constantly surrounded by noise, making it impossible to clearly communicate with one another. Thus, we dedicated years developing a new noise-cancelling technology and integrated it with the headset. And now we are thrilled to offer people a product that will greatly enhance their communication experience in loud industries."
Absolute NO-noise, clear communication.
While the average Bluetooth headphones or even headsets designated for communication are ineffective in noisy environments because the microphone is located outside, picking up almost every background noise, ORFEO SoundWorks has put the microphone inside the earphone to catch the voice traveling through the Eustachian tube and to block out ambient noise. The earphones then employ patented technology to ensure the voice has a natural sound. This means that clear, hands-free communication is now possible in the construction site, manufacturing facilities, and even in the battlefield – with no shouting necessary.
About ORFEO SoundWorks
ORFEO SoundWorks is the pioneer of noise-blocking Bluetooth headsets. An engineering-driven research and development company, ORFEO SoundWorks was founded in 2015 with the goal of enhancing the listening experience of people everywhere. Products include specific B2B audio solutions and sound-blocking Bluetooth earphones, which were selected as a CES 2016 Innovation Awards honoree.
To learn more about ORFEO SoundWorks, visit http://www.ORFEOsound.com.
Media Contact:
Steven Kim
steven(at)ORFEOsound(dot)com
714-770-8090