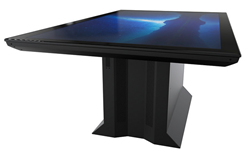 We are thrilled to offer this newly designed and improved model to our clients and partners.
CORRALES, N.M. (PRWEB) November 22, 2016
Ideum (http://www.ideum.com) today announced the Colossus II 86" Ultra HD multitouch table. This updated version of the Colossus has a sleek new design, bezel-less PCAP touch technology, an LG Commercial 86" 4K UHD display, a powerful Intel i7 computer, and a dedicated NVIDIA graphics card.
Among the largest production touch tables in the world, the Colossus can support up to 8 simultaneous users. Its rugged, all-aluminum construction makes it perfect for active public spaces. The original Colossus can be found at the Smithsonian Cooper Hewitt Design Museum in New York City.
Ideum has developed custom software for the Colossus multitouch table and designed and developed interactive experiences for Smithsonian National Museum of the American Indian and Smithsonian Air and Space Museum in Washington, D.C.
"The original Colossus set the standard for performance and reliability in very large multitouch tables," said Ideum Creative Director and Founder, Jim Spadaccini. "The Colossus is a great platform for developing multiuser interactive experiences. We are thrilled to offer this newly designed and improved model to our clients and partners."
The Colossus comes with an integrated Intel Quad Core i7 computer system, 32GB of RAM, (2) 1TB hard drives, and a dedicated NVIDIA GTX 1080 graphics card. Customization options include custom color, creating a dream Windows computer configuration, and other individualized modifications.
Designed and built in the USA, the Colossus is built to exacting standards with the best available components. It is also designed and built in the USA. Ideum has been designing and selling large-scale, integrated touch systems since 2009. The Colossus system comes standard with Windows 10. Like all of Ideum's touch products, it is backed by a manufacturer's warranty from Ideum. The Colossus II will ship in February 2017. Ideum is currently taking pre-orders.
High-resolution images are available at:
https://www.flickr.com/photos/ideum/albums/72157668435065286
To learn more about the Ideum Colossus Multitouch Table, visit http://ideum.com/touch-tables/colossus/
About Ideum
Ideum is an innovative design company based in Corrales, New Mexico. The firm focuses on creating the next generation of visitor experiences that blend both the physical and digital realms. Along with its Creative Services software group, Ideum designs and produces integrated and hardened large-scale multitouch tables and touch walls for museums, educational institutions, government agencies, and Fortune 500 companies. It has offered multitouch tables since 2009 and has now sold them in 38 countries. For more information, please visit http://www.ideum.com or contact Esther Lombardi at (505) 792-1110 ext.1.